CLASSIFIEDS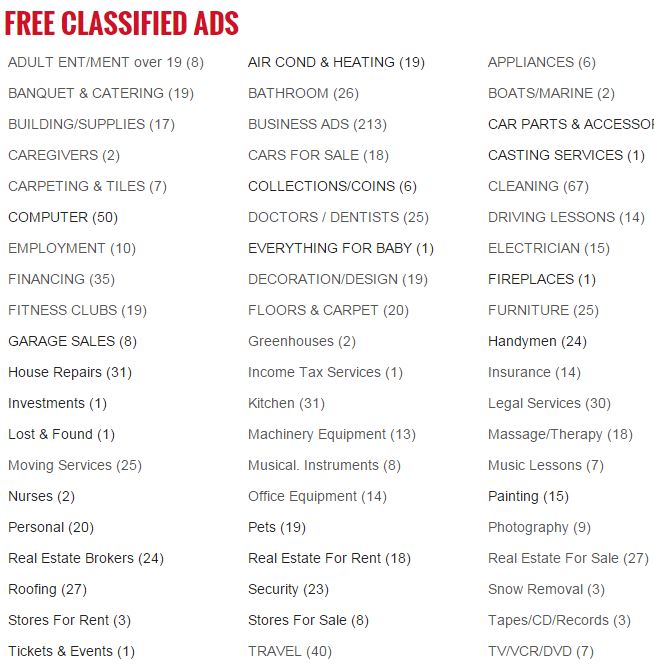 The Classified Ads Section is a free service.
It is divided into categories for your convenience.  You may even upload a photo.
The requirements are to register your name the first time only, and the FlyerMall wil recognizes you for future ads.  At any time in the future you will be able to use your password to access your ad to make corrections, additions or deletion of the ad.
At the same time, you may be able to place a brand new ad under different categories.
It is a benefit to you and to individuals looking for items or services you are providing.
Since FlyerMall is a family friendly website visited by millions, we would like to stress that any inappropriate photos will be deleted, especially in the Adult Entertainment category.
We encourage you to use your common sense with respect to our request.
Your ad may be posted to appear for as long as you wish.  
Additionally, your ad may be re-directed to your website should you have one.
If you have a bicycle, used furniture, having a garage sale, need to find a home for your mother-in-law, looking for used tires, someone to remove your snow, trying to find your lost pet (include photo), need a lawyer, moving services, cleaning, opening a new store, selling your store, appliances, car parts, fixing your computer, music lessons, building supplies, etc.
The above are a few of the categores in FlyerMall Classified Ads Section.
Ads like these may cost you a pile of money in the Toronto Moon, Vancouver Good Weather or Montreal Tablet newspapers, etc., etc.
This is our way of indicating that your ad will not only be seen locally, but internationally. Therefore, a viewer may see your ad in China and need an emergency plumber because of boken pipes in his washroom and the fellow advertising his plumbing services may be in Ohio.
So please do not forget to include your location, City and Country.