Dear friends:

Sometimes it is sad to talk about appetizers when in parts of the world there are people starving.

I have seen a lot in my life, anything from
Tsunami Disasters, in Sri Lanka
Earthquakes in Haiti,
Hurricane Gilbert in Jamaica,
Floods in Pakistan, 
Children in need of food in Peru and Cuba
Ghana, orphans
Hurricane Ivan in Grenada
Typhoon Haiyan Yolanda in the Philippines
Homeless in our city, extra food needs for the Senior Citizens Homes and Philanthropic Association, to mention only a few. 
You may read for all the above and more in the
Letters of Appreciation which arrived at me over the years.

I am Saddened! Saddened, to write recipes for appetizers, which seems to be so excessive.
Nevertheless, Appetizers are a part of daily life, they are here to stay and are important to a segment of society.

However, should I see someone more than 250 or 300 lbs and he/she asks for appetizers, I definitely would give them a complimentary black eye and the book titled,
Overweight, Highway to a Healthy Life, which I wrote a few years ago and from the feedback I have received, this book has become like a Bible to some people, special to diabetics.
There are some exceptions to the above statement since some people may not have control over their weight gain due to malfunctioning glands or medical issues.

Please note: I am not simply writing books, I am portraying a life experience.
 I am very proud to say that I have never had not even an A1 recall and in fact, I have received an acknowledgment from the CFIA Canadian Food Inspection Agency for 49 years.
As well, I was granted the unbelievable 98% score from one of the largest organizations in the world, Wal-Mart who have given me upon a thorough inspection of my premises.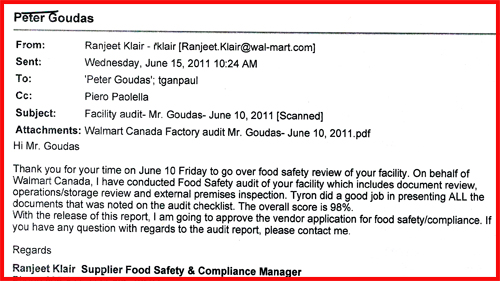 Alzheimer's and dementia
Is this problem related to the food?
Quite some time ago, I heard the word: "Alzheimer's, but I never really put so much attention in this word until recently when a friend of mine informed me that his wife has been diagnosed with Alzheimer's disease.
As time went by, I heard about Alzheimer's much more often.
Certainly, I heard a favorite actor of mine by the name of Charlton Heston suffering from the disease and he made a documentary explaining to the general public that this is going to be the last communication with the world since he knew that he will be declining to the point that he no longer recognizes anyone and he will probably forget everything that he knew and his personality will change as well. 
So then I thought to myself: 
If he can get Alzheimer's Disease, what's preventing me or you from getting this disease?
Following up on this incident of the actor, I tried to study as much as I can about Alzheimer's and dementia in our daily lives and questions flown through my mind.
Is this problem related to the food, the weather, a combination of the two, worries, old age, lifestyle habit, environmental pollution, education, etc?
The questions are endless and the answers even more!.
I decided to make this link in the article explaining to you the word Alzheimer's disease by portraying very reliable websites and professionally sourced data from authorities on the subject. 
Prior to posting these links, there are hundreds of documents on the internet beginning with the Wikipedia, Orthopedia, Macromedia and all other Pedias as well as videos. 
I found the time to select the best articles and videos related to the issue and believe me that was not easy watching nor was it entertaining. Everything I read was dreadful and heartbreaking.
For someone who has Alzheimer's, does not really understand, but for those who care for them and their loved ones, to the homes where staffs care for them and their caregivers, it is a devastating story everywhere.
In this article, I will not try to sell you any treatment or approaches in caring for those affected by the dreadful illness, but since I posted these videos and articles quite a few people reached out and explained to me their experiences of caring for loved ones or how difficult a job it is.
Every so often I have visited their houses for coffee and witnessed with my own eyes the effects, I will not go into details and behaviors of those affected, and I have already posted enough videos that readers can view on their own.
As I was reading one of the articles and look at it in depth, something extraordinarily hit me in the head like a baseball bat. Since that time, I am not trying to focus on the cure of the disease, but exactly the opposite the cause of the Alzheimer's.
I am also focusing on the caregivers who specialize in taking care of the affected ones with the disease. In the film, you can see me getting acquainted with them.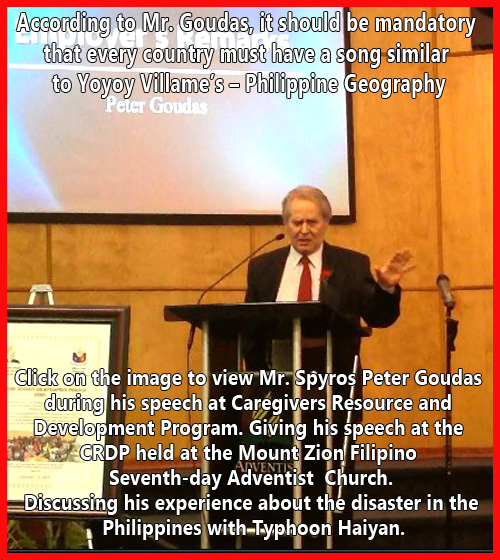 "THE IMMIGRANT " THE BIOGRAPHY OF SPYROS PETER GOUDAS 
TRANSLATED INTO FILIPINO BY ANALYN SARMIENTO