The Barbers Daughter
3184 Dundas St. West Toronto On. M6P 2A3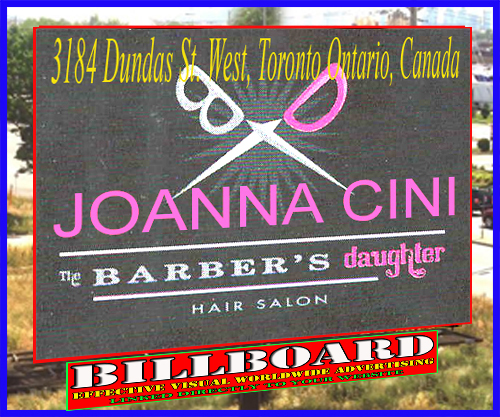 Joanna Cini The-Barbers-Daughter-Hair-Salon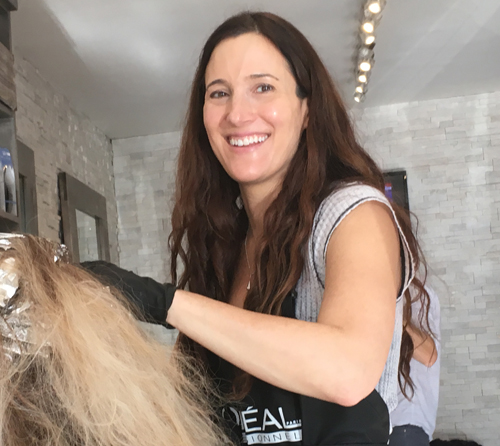 Photo of Joanna Cini and Franco Gatto, owners of The-Barbers-Daughter-Hair-Salon
3184 Dundas St. West, Toronto Ontario, Canada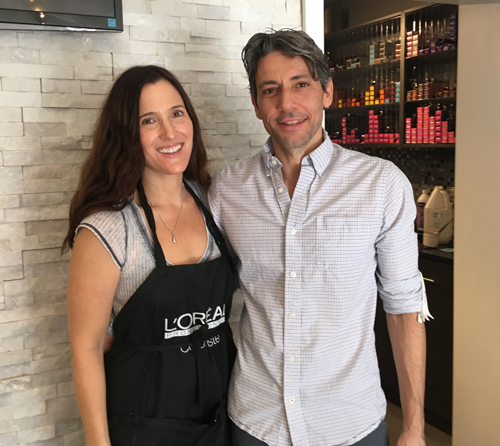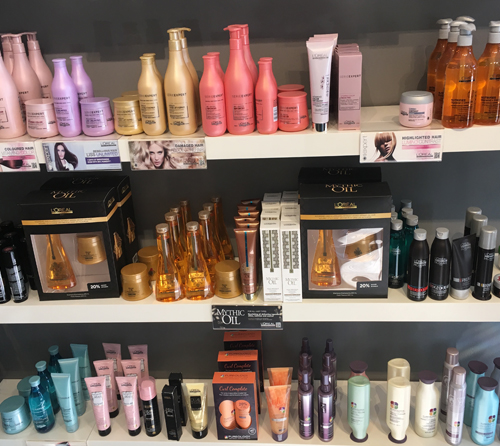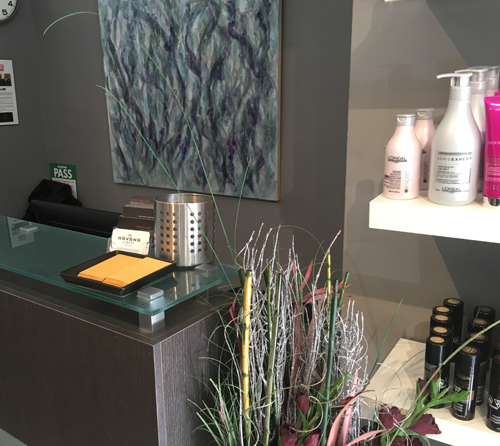 The video portrays Joe Cini in the 1980"s at Mr. Spyros Peter Goudas' office.
Mr.Goudas past and present part 1 of  8. Please click videos in English for the other parts
On part 8 the credit for hairstyling go to Joe Cini The greatest barber of all times.
This documentary film is a work of more than ten years of preparation.
Made prior to digital cameras and automatic editing system.   
It was released in 1990 at which time there were 20,000 VCR tapes distributed to the public.
Since the film was released there have been many changes within the organization, the production, and the customer base.

This film has now become part of the Archives.
Joe Cini is after Robert Galati
Joe Cini April 10, 1935, May 8, 2014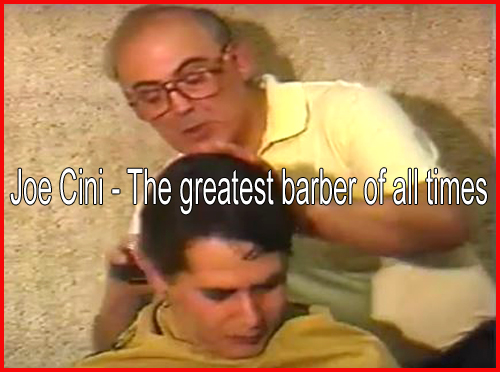 A personal note from Joanna Cini 
My dad Joseph (JOE) Cini was born on April 10, 1935, in Qormi Malta.
He saw many hardships in his early years. 
By the age of five, Malta had been at the heart of the second world war, he had lost three siblings and his mother.
Left was his father, sister Carmena and three brothers Ralph, George, and Fred.

There wasn't much time to be a child, so the boys were taught the barbering trade from their father at a very young age.

My father would tell me he remembers having to stand on a stool to shave soldiers' heads.
Because he was taught such a strong work ethic so young it was with him his entire life. !

My father was never afraid and was always so courageous.
At the age of 17, an age most are now worrying about their kids going to college or university he was traveling from Malta to Canada on "the boat".

When he arrived in Canada, he settled in "the Junction". ( KEELE & DUNDAS ST TORONTO)
In the first couple of years, he worked barbering in the back of a pool hall on Dundas close to Keel Street.

By the age of 19, he owned his own shop.

He worked on Dundas for nearly 60 years and was well known in the area as "Joe the Barber.

He was fondly known by all members of his family as "Uncle Joe", Nanu and Dad, but also headlined a few times throughout the years in the Toronto News.

In the early years of his life as "Wild Man Cini" and later years as "The Feisty Barber.
People were always fascinated by him, but he was such a simple humble man.
He was never boring though…
There was always a great story to tell about him, whether it was his family, friends or the media!!

Everyone that met my dad loved him. He had the biggest warmest heart.
His Clients and friends would frequent his shop for a haircut or just for a friendly visit.

He would open his door to anyone. He'd offer you a coffee, possibly a plate of food and of course a great conversation. He met so many different people throughout his life.

He embraced people's differences.
He never discriminated against and loved people from all different walks of life.
He had true art for communicating.
Wherever he went, he would make a new friend, or run into an old one.
He didn't always remember everyone's name, but he would remember their face and something unique about them. !
Sometimes someone would ask him if he knew someone. I always loved his response.
He would say "I don't know him, but I know him".
The funny thing was most of the time, he probably did!
He was always able to make connections.
In the last few weeks of his life, he spoke a lot about how really small the world was and how everything was connected.
He really valued and loved all life.
Many people remembered him with his dogs.
His love for all animals and creatures was astounding.
He really loved caring for things. !

His family will remember him for his heart of gold and as the most caring, giving,
generous man. His brother will remember him as a loving brother, and his nieces and nephews
as their "Uncle Joe". All his Grandchildren will remember him as their Nanu, and all the important things they have learned from him…
How to love unconditionally, and to always be true, good, kind, honest and fair. !
To his children, he was everything you could ever want as a dad. He was my Idol. 
I have never met anyone with a bigger, warmer heart.
He was the best.
He has given us the shirt off his back.
His honesty and integrity will always be admired.
He was always so brave and strong.
He always looked after us.
He was never afraid to show his feelings.
He shared so many laughs and so many tears.
He always told us he loved us.
He was our guide, protector, and our teacher.
He always taught us not to be afraid and to keep on learning.
He taught us to dream big but to value simplicity.
He will continue to live through us, his children, his grandchildren, his friends and in all of our hearts.

I know he is heaven right now making all the loved ones that have gone before us smile and laugh… and I know I will meet him there one day.!

Thank you, dad, for all the wonderful memories and treasures you have given us. !

We love you.!
A personal note from Mr. Peter Spyros Goudas
Joe Cini
It was just about the middle of the 70s that I moved my factory in the Keele and St-Clair area Within that period of time during wee hours of the night, I was trying to find a barbershop, so at least I know where it is for future reference next time I need a barber.
It was past midnight, I came out of the car to look at the barbershop sign that I noticed while I was driving by.

I saw a light inside at the back of the shop through the door, and the barber was still inside doing something, possibly cooking.
Upon seeing me, he turned the light on and opened the door for me.

Back then, I was some kind of a hippie myself and Joe stated that he will turn me into a movie star and I would reply that I'm a businessman, not a movie star I told him.
Before I say anything else, he pulled a chair, asking me to sit in as he begins trimming my hair;
The conversation started.
I told him who I am and what I do, also that I am from Greece, he informed me that he was Maltese and he went through numerous hardships when he first arrived in Canada.

I exchanged my own settlement obstacles as well.
The haircut lasted a good 2-3 hours until early morning since we had been interrupted as he was also cooking at the back of the shop at times, he brought something from the back to eat and enjoy.
Subsequently, in the later years since as I was very busy, rather than going to him, he was coming into my office because we are not too far away.

Sometimes, he would come up past midnight, while the rest of the world is fast asleep, I would get a trimming and conversation combo and we would cook one of my mouth-watering recipes.
I also had the privilege of having my dogs along with me to converse with his dogs.
Obviously, acquaintances living in the area would notice the lights were on while it's almost 2-3 o'clock in the morning; they would come along, and join us for coffee and discussions about both local and international issues of interests.

Joe always had something positive to say about everybody.
He was a fabulous human being, friendly with everyone, soft-spoken and a great mind to be around. The type a person you'll want to chat with for hours and hours.
His daughter Joanna outlined his life story and she did not miss anything, everything she said was truthful.

Joe knew how to seize the opportunity to share, explore and appreciate.
My heart is filled with memories to offset his silence.

I did not lose a barber; I lost a good friend, a confident and the pleasure of his company.

After Joe died, I never replaced him. That's why I turned into an old hippie.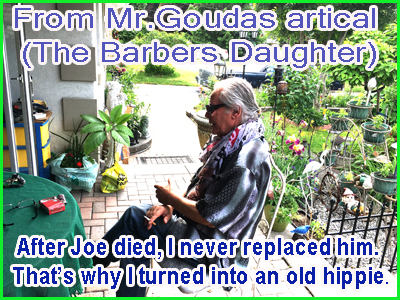 After writing this article, Joanna offered to continue the family tradition by cutting my hair.
What an absolute blessing it has been to know him and having him as part of our lives!

I cannot think of a better way to honor him and to talk about him.

There are things that death cannot remove.

We never die when those who know us keep talking about us!