BAD BOY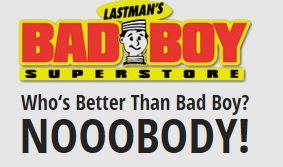 It all started in 1955 when Mel Lastman opened the first Bad Boy store.
Almost 60 years later we are still a family owned, proudly Canadian company, where you'll still find our exceptional Product, Selection, Service, Price and Value that we are proud to deliver every day.
At all Lastman's Bad Boy SuperStores you'll find an amazing selection of Furniture, Electronics, Appliances and Mattresses from national and international brands such as Sony, Toshiba, LG, Sharp, Samsung, Frigidaire, Frigidaire gallery, Frigidaire Professional, GE, GE Profile, Maytag, KitchenAid, Whirlpool, Amana, Sealy and Bassett.
Drop by any of our Bad Boy SuperStores across Ontario in London, Kitchener-Waterloo, Barrie, Brampton, Burlington, Mississauga, North York, Scarborough and Whitby where our Expert Sales Associates will be pleased to help you.
INNOVATIVE ADVERTISING AND MARKETING
Never afraid to make waves, since the resurrection in 1991 Blayne has continued in his Father's footsteps creating a stir in all areas of the media.
During early 1994, the Clinton look-alike promotion used by Bad Boy caused a sensation around the world. Journalists and talk show hosts from Germany, Japan, the United States and Italy called for interviews with Blayne Lastman.
The power behind the phrase "NOOOBODY!" is also a force to be reckoned with. It is readily identifiable, and has considerable "quotability", so it continued to appear in news stories, editorials and political cartoons in ways that the phrase was never intended to be used, but that benefited Bad Boy through re-enforcing its presence in the marketplace.
In early 1999, the World Wrestling Entertainment partnered with Bad Boy in promoting both entities through in-store visits and autograph sessions with some of the most high profile wrestlers of the time.
Retired NHL players such as Johnny Bower and Bobby Baun also provided their services to Bad Boy for promotional purposes, which, together with ads displaying Pat Burns, reinforced the link of the company with professional sports
Capitalizing on the Beanie Baby craze, baby-sized Bad Boy key chains (who shout "NOOOBODY!" when you squeeze their tummies!) proved to be immensely popular.
Even today, when the standard home retailers' ads cannot be distinguished, Lastman's Bad Boy