SQUATTERS ACADEMY
SQUATTERS CAME HERE IN 1492, NO ONE OWNS ANYTHING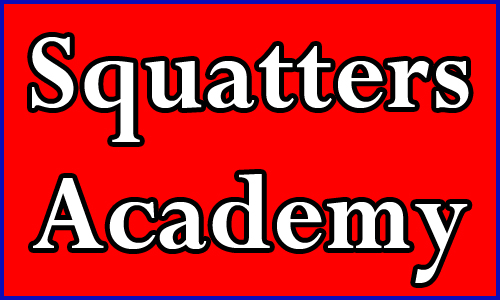 Squatting is the action of occupying an abandoned or unoccupied area of land or a building, usually residential, that the squatter does not own, rent or otherwise have lawful permission to use. 
Squatting is a worldwide phenomenon and tends to occur in people who are poor or homeless that find empty buildings to occupy for housing.
There were over 2 million squatters worldwide in 2010 or more
.
If current trends continue, this number will increase to 5 million or more by 2020.
Is a problem, or a symptom, of a housing shortage, unemployment, illness, unaffordable housing, lack of shelter space, and, and.
In many countries is a civil conflict between the owner and the occupants. 
Property law

 and the 

state

 have traditionally favored the property owner.
However, in many cases where squatters had 

de facto

 ownership, laws have been changed to legitimize their status.
Squatters often claim rights over the spaces they have squatted by virtue of occupation, rather than ownership;

in this sense, squatting is similar to (and potentially a necessary condition of) 

adverse possession

, by which a possessor of 

real property

 without 

title

 may eventually gain legal title to the real property. According to Wikipedia.
Let take a brack and view some wonderful videos
Squatters Claiming Ownership of Abandoned Houses
Blake Hopkins
 What's the point of having a good job when you can just stay in a house for a while then it's yours
Over-100,000 Chinese millionaires have houses in Vancouver
 At 18:35 ten houses on the street are empty, something to think about.