SIDCO PLUMBING and HEATING
phone: 647-895-1850
3470 CAWTHRA RD MISSISSAUGA ONT L58 2Y1
SIDCO PLUMBING & HEATING INC.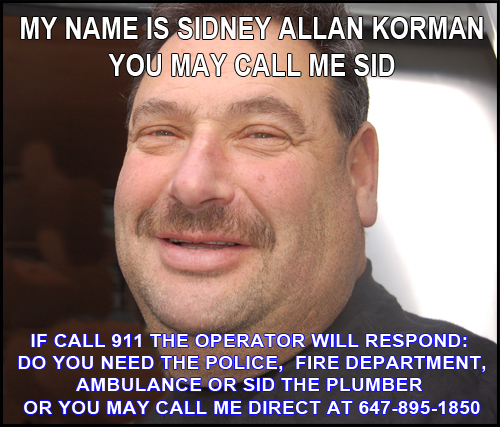 My name is Sidney Allan Korman.  However, you may call me Sid.
I am a fully licensed and insured Master Plumber.
I provide Water Heater service and repair, including small service repairs to your residence (water lines, taps, toilets, sinks).
Industrial, Commercial and Residential premises are my specialty.
New work, service work, cleaning drains, installing new and replacing old fixtures.
Roughing in drains and water lines, in addition to installing back-flow prevention.
Experienced with Water Filtering Systems, Water Heaters, Pumps and Boilers – servicing, cleaning, installing and replacing water heaters and boilers.
Air lines using different types of piping (metal, copper, plastic).
I would like to let you know why you should call me.
First of all, I answer my phone 24 hours a day.  
I respond to calls as quickly as possible.
I personally attend your premises to assess the problem and inform you of the different possibilities.
I ensure that I take all your worries away and execute the job with confidence and responsibility.
I do not monkey around.
Upon completion of the job, I clean up the mess, and try to keep things as clean as possible before leaving your premises.
My rates are very reasonable.
Free estimates are provided upon assessing the job.
I service the GTA (Greater Toronto Area) – Toronto, Scarborough, Brampton, Mississauga, Markham, Richmond Hill, Hamilton, Oakville, Etobicoke, Stouville, King City.
CALL SID at 647-895-1850 (cell phone).