PARTY STUFF
ABOUT US
Party Stuff & U-Rent-It can trace its history back to the 1950's when a small party rental store was opened on Corydon Avenue in Winnipeg.
It changed hands and locations a few times over the years and in 1982 it was purchased by the Glass family of Winnipeg.
At that point, the rental service company occupied 2,200 square feet in a small strip mall on St. James Street, near the old Winnipeg Stadium.
In 1985, the company was moved to a 7,500 square foot location on Century Street. In 1986 Sheldon Glass was joined in the business by his wife, Sandy.
They were subsequently joined by their sons Bryan, in 1991, and Jonathan, in 1994.
The Century Street location underwent a major expansion to 10,700 square feet and "Party Stuff" was added to the product mix in 1995.
In January, 2001, Party Stuff & U-Rent-It moved into their own 22,000 square foot building on Arena Road (now known as Milt Stegall Drive) near the old Winnipeg Stadium.
In all these years, the company hasn't moved very far geographically, but it has in every other method of measurement.
September 2003 marked the opening of the second Party Stuff location, at 1530 Regent Avenue West in Winnipeg.
September 2011 marked the opening of the third Party Stuff location, at 1765 Kenaston Boulevard in Winnipeg.
Sheldon Glass reports that "We could not have made this progress without our most important partners - our staff and their relationship with our customers. Our company philosophy is simple -C.A.R.E. - Customers Are Really Everything.
It has been our goal to make your renting and shopping experience a pleasant one with professional service and attention to detail."
Please take some time to browse through our website. It has been designed for ease of use.
We hope that it will enable you to have the basic information to start your planning.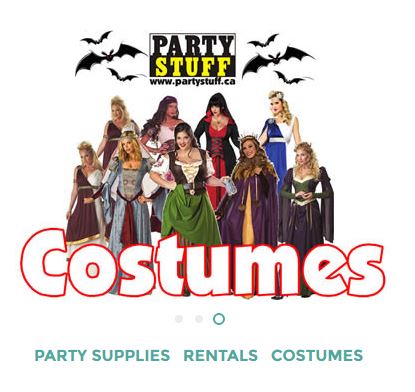 Party Stuff & U-Rent-It 925 Milt Stegall Drive
1-204-786-8756  1-800-265-7368
 We are located in the St. James / Polo Park area of Winnipeg, between St. Matthews & Ellice. You'll find us between Toys R Us and Robinson Lighting
We are open Monday thru Friday from 8:30am to 6:00pm (Thursday evenings until 8:00pm) and Saturday 10:00am to 6:00pm. All rental pick-ups and returns must be made between 8:30am to 5:00pm Monday thru Friday, and 10:00am to 6:00 pm on Saturday. 

Party Stuff on Regent 1530 Regent Ave. W.
1-204-222-3393
We are located at the corner of Regent Avenue and Rougeau Avenue across from Kildonan Place Shopping Centre
We are open Monday thru Friday from 10:00 am to 9:00 pm Saturdays from 10:00 am to 6:00 pm and Sundays from 12:00 pm to 5:00 pm

Party Stuff on Kenaston 1765 Kenaston Boulevard
1-204-222-7822
We are located in the Linden Ridge Shopping Centre on Kenaston Boulevard between McGillivray and Scurfield Boulevards. Turn off Kenaston at the McDonald's / Co-op Gas Bar, then turn right at the stop sign. We are in the mall with M & M Meats and Subway.
We are open Monday thru Friday from 10:00 am to 9:00 pm
Saturdays from 10:00 am to 6:00 pm and Sundays from 12:00 pm to 5:00 pm