FREDS FARM FRESH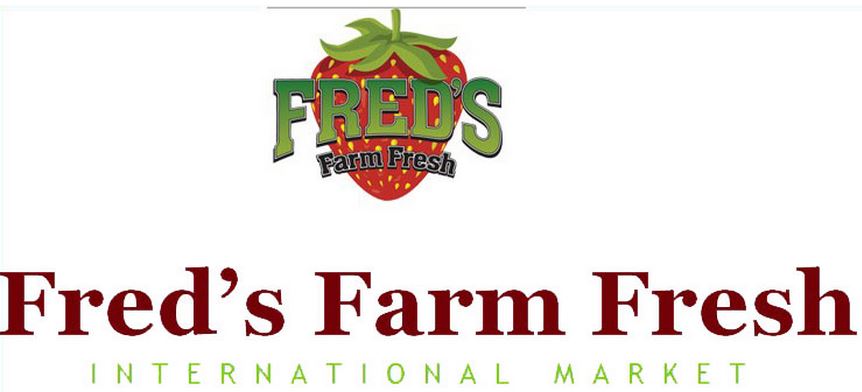 Our Products
Rediscover that neighborhood like Butcher Shop experience at Fred's! With a broad array of hand-cut steaks, chops and custom-cut meats for you to choose from, our professional butchers are always on hand to help you select your meats and offer other helpful suggestions. They'll also cut, grind, filet and even prep it for you. Our gourmet prepared Butcher Shop products include juicy kabobs, marinated steaks and chicken breasts, stuffed roasts, pork chops and chicken, as well as an array of specially prepared meats and burgers. Featuring meats such as veal, pork, beef, lamb, chicken and turkey.
NEW HOT DELI!
Featuring Fresh Roasted Chicken, Grilled BBQ Ribs, Grilled Salmon, Grilled Vegetables and Jumbo Chicken Wings!
We are now offering AUTHENTIC FRESH MADE GUACAMOLE, MADE IN HOUSE DAILY! You should also check out our new GOURMET READY TO GO SANDWICHES AND CUSTOM DELI SANDWICHES! we also have HOMEMADE SOUPS AND CHILI, Hot and ready!
---
MEATS
You'll want to sample our low sodium locally smoked bacon, and fresh cured corned beef brisket. Come and check out our selection of specialty items such as london broil, beef kiev, spinach-feta and sundried tomato stuffed pork chops, bacon wrapped filet mignon and jalapeno cheddar burgers just to mention a few. And don't forget, our fresh sausage is prepared in house.. Hot or Mild Italian, Louisiana Andouille, Chorizo or honey garlic, pesto chicken sausage is also available – only at Fred's!
---
CHEESE
From small to large wheels, from here to there, we have over hundreds of cheeses from everywhere! You'll find uncommon varieties of goat cheese and Bries, Swedish, danish and swiss cheeses available. Italian cheeses include Asiago, Pecorino, Provolone, Crotonese, Piave, Reggiano, Padano, Romano, and More! Spanish Manchego, multiple Goat or sheep cheese, Mexican Cheese, Argentinian Sardo. Irish cheddars and British flavoured cheeses make for interesting cheese tastin and a vast array of your favourite greek varieties and even indian Paneer! We also carry cheeses that are not only great for frying but for the barbecue too! Local Artisan cheeses available from Ingersoll and the famous Thornloe Cheese collection and curds from right here in Ontario! All our cheeses are cut in-store so you know the piece you're buying is fresh and tasty. With such a tempting variety to choose from, you'll just have to ask for a sample. And we know once you taste our cheese, you'll say, more please! Lactose free varieties available as well Come on in to sample any variety you like!
---
DAIRY
Visit the dairy section at Fred's for all your favorite local and national brands of milk products; including dozens of cultured dairy products such as probiotic yogurts, Greek yogurt (labne) and much much more. Try our assorted local butters and dairy spreads And for lactose-intolerant dairy lovers, we carry a full array of lactose-free products for your non-dairy pleasure.
---
DELI
In addition to our gi-normous selection of domestic and imported cold cuts, sliceable cheeses and dried, smoked and cured sausages, we offer your service quickly and freshly sliced to your liking.
---
OLIVE BAR
Don't overlook our olive bar, which also features specialty items such as wild mushrooms, grilled eggplant and zucchin and feta stuffed peppers, sundried tomatoes and roasted red peppers …..just to name a few, alongside our extensive salad bar selecton. Deli at its finest and its fastest
---
ETHNIC FOODS
In a community as diverse Windsor, it takes moxie to call yourself an international marketplace. Fred's works hard to live up to that claim each and every day. We have to, because counting on us are customers from around the world looking for the finest ingredients to create their special, family recipe, and of course Italian delights. Our aisles are filled with bags, boxes, cans and perhaps most importantly, fresh produce, meats and bakery products from around the globe. We know our ethnically diverse shoppers are looking for quality and value, and Fred's delivers both. If you can't find it elsewhere , we'll help you find it at Fred's!
---
FLORAL
We can create beautiful and imaginative works of floral art for every budget and for every occasion. Whether you're in need of a funeral arrangement or just a bouquet to take to dinner, Fred's has the ideal floral selection to match the size of the occasion plus the size of your budget. We also carry balloons in a rainbow of colors, shapes and sizes when that "festive touch" is called for. Local delivery is also available.
---
GIFT BASKETS
Handcrafted gift baskets are a tradition at Fred's. For decades now our unique selections, hand designed baskets have delighted recipients from windsor and essex county. In addition to our full selection of standard baskets, we can create custom themed baskets to suit your taste for personal or corporate gifts.
Every year, we visit food shows nationwide to ensure your basket is brimming with the best selection of the finest food. And because it comes from Fred's, you know your gift basket will contain only products of the highest quality, and without exception, they will be fresh – we guarantee it!
---
GLUTEN FREE
The term gluten is actually a generic name for various kinds of proteins found in wheat, barley, rye, spelt and other common cereal grains. Which means you find gluten in many foods. If your preference is to eat gluten free, Fred"s is sensitive to your sensitivity. We have hundreds of products throughout the store including fruits, cookies, cakes, meats, pizza, nuts and even deli meats.
Be sure to visit all of our departments – produce, nut & candy, frozen, grocery, and deli…. and look for brands such as Bob's Red Mill, and Simply 7 for great selection
---
GROCERY
Truly an international marketplace, you practically need a passport to wander our aisles! At Fred's you can shop Asian, European and Middle Eastern delicacies, as well as a world of other culinary treats. But we also carry many items from right here in Ontario. And everything is delivered direct to our stores, never to warehouses, so you know it's going to be fresh.
Our knowledgeable associates will help you find that special something that you're looking for. We're happy to accommodate your special requests for foods you can't find anywhere else. We're also committed to serving your specific dietary needs, be it gluten free, sugar free, low sodium or low fat. Just as we are committed to bringing you the finest selection of foods from near and far, scouring the most prestigious food shows worldwide to bring you the very best in goodness and value.
---
ORGANIC
At Fred's we offer a host of organic food in every food category. You can find all the staples in our departments: bread, milk, yogurt, soup, broth, sugar, flour, tea, juice, jam, pasta, pasta sauce, canned & fresh vegetables, canned & fresh fruits, lettuce, salad dressings, pancakes & pancake mix, salsa, catsup, BBQ sauce, cereal, beans, rice, spices, peanut butter, cheese,… If you can't find it, just ask one of our associates or managers for assistance!
---
PRODUCE
It's no wonder our store name has always featured our signature strawberry. Luscious fresh fruits and vegetables were our only products when we opened in 1978, and are a store mainstay to this day. Our buyers comb Detroit's Eastern Market and Produce Terminal daily, which means our enormous variety of produce from fruits and vegetables, fresh cut greens, specialty salads and other specialty produce items you just won't find anywhere else reach your table so consistently fresh, we guarantee it! (If you'd like a taste before you buy, you're welcome to sample!) And because we care about our neighbors, we support Ontario farmers whenever possible, fostering good faith in our community while maintaining the highest quality in our foods.
---
SEASONAL
In Spring starting with Easter our garden centre will offer Windsor's largest selecton of bedding plants, annuals, perennials and tropicals! Expert gardners are waiting to answer all of your horticultural and design questions.
Fall stirs up a different kind of beauty with our huge selection of fall mums, asters and Pansies in addition to pumpkins, decorative gourds, bales of straw and beautiful bundles of corn stalks.
Right after fall our huge greenhouses will fill up with only the finest hand picked and perfectly shaped fresh cut Christmas trees alongside a huge selection of winter greens such as cedar or pine roping and decorative winter green pots as well as small or large professionally decorated grave blankets and wreaths.
---
PARTY TRAYS
Having a party at home or the office? Stop by and let us customize party tray's to your exact needs. Our selection of meats and cheeses and fruits will make you a great host and people will be raving about the food! Whether your party is large or small we can make it special for everyone there. We offer local and international selections to give a diverse tray that you won't get anywhere else! Customize your tray in store, or give us a call and we can build a tray you will love! We also deliver! Give us a call at (519) 966-2241 to arrange a party tray or stop by to see us!
---
DESSERTS

Fred's is proud to announce the arrival of

Hand-crafted quality desserts now here at Fred's.