LONGOS
 About Longo's 
Longo's is a family-owned Canadian organization that started in 1956 when three brothers, Tommy, Joe, and Gus opened their first fruit market. It was a small 1,500 square foot store on Yonge Street (at Castlefield) in Toronto.
The family maintained a commitment to providing customers with the best fresh food experience possible. All these years later, this philosophy remains the heart and soul of our company.
Today, Longo's operates full-service grocery stores across the GTA as well as www.GroceryGateway.com, the leader in online sales of home-delivered groceries. Longo's employs more than 5,000 team members and offers an environment where people have the opportunity to be the best that they can be.
Longo's Vision
Inspired by the founders' values of honesty, trustworthiness and mutual respect, Longo's team of food experts are dedicated to exceeding customer expectations by offering the best food experience to every customer, every time.
Today's Longo's represents an evolution of fresh food experiences based on a tradition of quality, service, and value that started in 1956.
As we grow and continue to introduce new and exciting changes and offerings, we are committed to honoring our past, while we look forward to embracing the future.
That is what A Fresh Tradition is all about; it embodies our heritage in fresh and welcomes unique product offerings and innovative services that offer a whole layer of convenient, fresh and healthy meals and of course, our renowned customer service.



At Longo's we're passionate about food and family, so we created Experience magazine, a true celebration of quality home cooking.
All past issues of Longo's Experience Magazine are in PDF, if you do not have Adobe PDF viewer, click here to download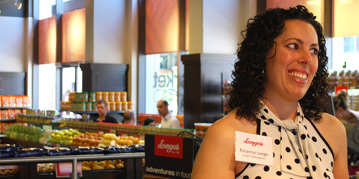 A Message from the President
When you join Longo's, you are joining a company whose business is firmly rooted in family values.
Our rich history dates back to 1956 when our vision took shape and we opened our very first store.
Today, we remain a proudly Canadian, family-owned business that is committed to continued growth and expansion. 
We have created, maintained and grown a workplace where individuals are respected, contributions are rewarded and people have the latitude to take ownership of their careers and the support and encouragement necessary to be the most they can be. 
When we speak about our values, we are talking about the fundamental principles that drive our business.
We are talking about honesty, openness, collaboration and a commitment to treating customers and employees with the respect and dignity they deserve.
We listen to what they have to say, we take their views to heart and, perhaps most importantly, act accordingly.
  We know that strong families and businesses succeed because of the mutual respect and honest relationships that become the norm and not the exception.
To recruit and grow the very best for our company, we're committed to maintaining an environment that encourages constant learning, loyalty, and accountability at all business levels. 
Our promise to you is: 
A Caring Environment
A Culture of Teamwork
A Place to Grow and Pursue Excellence
As Longo's continues to introduce new and exciting changes to our stores and offerings, we are committed to honoring our past while we look forward to embracing the future.
 We'd love for you to be part of our future and join the family. Apply today! 
Please click on the link below for more FlyerMall.com subjects.