FUTURE SHOP
phone: Customer Service 1-800-663-2275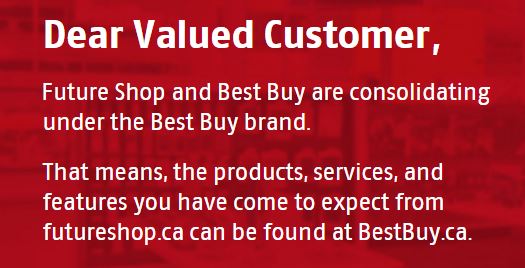 General information
What's happening?
Best Buy and Future Shop are consolidating as Best Buy. This means all of the products, services and features you have come to expect from Future Shop and FutureShop.ca will now be available at Best Buy and BestBuy.ca.
65 Future Shop stores are now open & operated by Best Buy. These stores will still look like Future Shop stores from the outside until our renovations can be completed, but rest assured that they are open for business. Visit our store locator to find an open store near you.
To learn more about this announcement, please see our press release.
FUTURE SHOP LOCATIONS IN CANADA HAVE BEEN SHUT DOWN, EFFECTIVE IMMEDIATELY
Well this came out of nowhere – all Future Shop locations in Canada have been shut down, effective immediately.
According to the London, Ontario-based radio station, AM980, a news release issued Saturday morning by Future Shop officials declared that all Future Shop stores would be closed permanently.
The surprise news was delivered was delivered to employees as they showed up for their work shifts this morning.
Future Shop was founded in 1982 and was purchased by Best Buy in 2001.
There are currently 131 Future Shop locations across Canada. 66 locations will be closed permanently and 65 stores will be closed temporarily and converted into Best Buy locations.
Approximately 500 full-time jobs and 1000 part-time positions will be lost.
Employees affected by the restructuring of the company will receive severance, employee assistance and outplacement support. There has been no confirmation as to if Future Shop will be liquidating their permanently closed stores, but we're thinking that all merchandise is likely to be consolidated and sold at regular price at Best Buy stores.
Many of the Future Shop locations that will be converted into Best Buy stores will open as early as April.