WINNERS

Winners Merchants International L.P is a chain of off-price Canadian department stores owned by TJX Companies which also owns HomeSense.
It offers brand name clothing, footwear, bedding, furniture, fine jewellery, beauty products, and housewares. According to an example in the Winners FAQ, an item selling there for $29.99 was made to sell for 20-60% more at a specialty or department store.
The company operates over 300 stores across the country.Winners' market niche is similar to that of its American sister store T.J. Maxx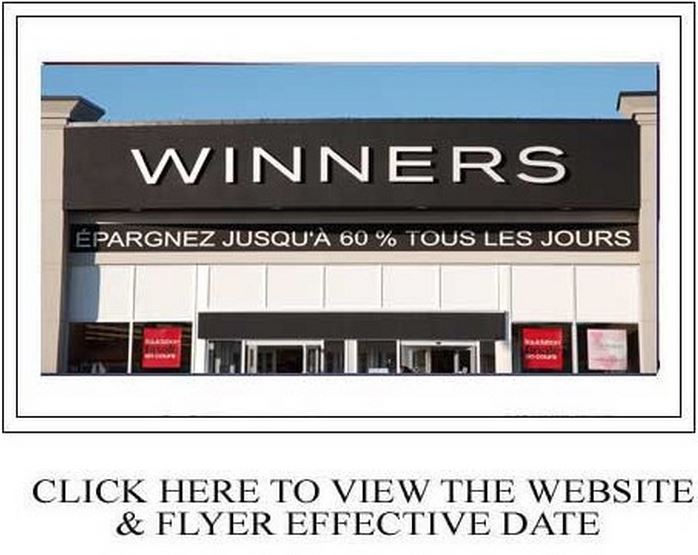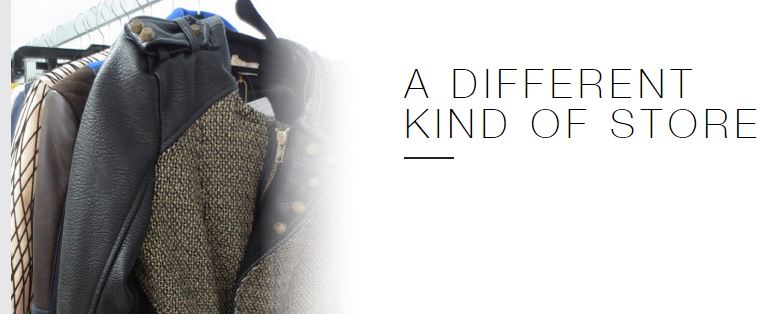 How do we do it?
At WINNERS, we deliver great value on ever-changing selections of brand name and designer fashions at prices generally 20%-60% below department and specialty store regular prices, on comparable merchandise, every day.
Real brands, real savings, really
WINNERS is an off-price retailer. For us, value is a combination of fashion, brand, quality and price. Unlike traditional retailers, we generally don't do promotions, sales, coupons or other gimmicks – just brand name and designer fashions that are 20%-60% less than department and specialty store regular prices on comparable merchandise, every single day! We're also not an outlet store.
An outlet store typically sells merchandise from a single manufacturer. We are different – we offer you brands from thousands of vendors around the world!
We're smart shoppers, just like you
Our buyers are on the hunt throughout the year for the hottest brand name and designer fashions of the season on clothing, footwear and accessories for women, men and kids. With thousands of brand names in our stores, a trip to WINNERS is a fashion lover's dream. And designer doesn't just stop at the closet – we have unbelievable deals on the latest home décor trends as well.
We buy from all kinds of vendors: big brand names to boutique, designer labels, as well as up-and-coming labels and one-of-a-kind gems. We also have some merchandise manufactured for us to bring you exceptional fashion and quality at an amazing price. |
Our buyers choose many different colors, styles and fabrics so there are always lots of great choices for you.
Our buyers are opportunistic and entrepreneurial. So when a designer overproduces or other stores overbuy, we swoop in, negotiate the lowest possible price, and pass the savings on!
Never the same selection twice
Unlike other types of retailers that buy seasonally, we have new brand name and designer fashions arriving several times a week. So stop by often to see our latest designer deals, at spectacular savings!
At WINNERS there's always a new deal to find and love. The average WINNERS store receives several deliveries per week, with each delivery containing thousands of items.
Our rapidly changing assortments create that "treasure hunt" shopping experience that our customers love.
If you love it, grab it! We don't hold replenishment stock in our back rooms and often, the store managers don't even know what's coming until they throw open the delivery truck doors!
That's what makes us so exciting to shop.
The amount we buy from each brand varies greatly-sometimes we buy a little and at other times, we may buy a lot. What matters is that we think our customers will love it!
No One Way We Buy
We take advantage of a wide variety of opportunities, which can include department store cancellations, a manufacturer making up too much product, or a closeout deal when a vendor wants to clear merchandise at the end of a season, as well as lots of other ways to bring you tremendous value.
The majority of product we sell is brand name merchandise generally sold at prices 20%-60% less than comparable product. Most of our merchandise is fashionable, current season styles.
A small percentage is past season, or timeless classics, which we also offer at amazing savings to you.
Some of our merchandise is manufactured for us and some is designed by our own fashion experts, particularly when what we are seeing in the marketplace isn't the right value for our customers, meaning the right combination of fashion, brand, quality and price.
For example, we buy beautiful blown glass from Poland, amazing cashmere and merino wool from Italy, and soaps from Australia. We are always seeking great quality and value all over the world!
Operating Stores for WINNERS
Our stores are as flexible as we are. We have no walls between departments, so we can easily expand and contract merchandise categories to respond to the newest fashion trends and changing customers' tastes.
We love our bright, modern stores, and our lean, no-frills way of working helps us pass spectacular savings onto you. So, don't expect fancy extras in our stores – just amazing fashion, brand, quality and price.
All of this is what allows us to offer you a desirable and rapidly changing mix of high quality merchandise, always at amazing value!

So whatever your fashion style – classic, understated, eclectic or super-trendy, we know that you will find something fun, individual and special, at a great price every time you visit!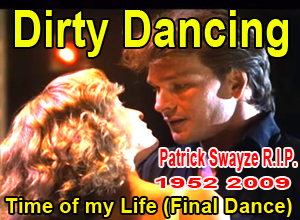 Dirty-Dancing-Patrick-Wayne-Swayze-;-August-18,-1952-September-14,-2009
 Sary solorzano Handsome Patrick swayze R.l.P. my love
 sirgallahad4 The human race didn't deserve Patrick Swayze and Jennifer Grey.
 Kirsten I. Russell Now, this dance confirms what Richard Rodgers told Ernest Lehman years earlier, when Lehman was adapting Rodgers & Harrmerstein's THE KING AND I to a screenplay and told Rodgers that the king (Yul Brynner) should tell Anna (Deborah Kerr) that he wants to make love to her. Rodgers clued Lehman in on movie musical speak, telling him that when a man and woman dance together in a movie musical, they ARE making love. Now, DIRTY DANCING isn't a musical per se, but does anyone doubt what Johnny and Baby are doing in this scene, that is, in "movie musical speak"?
blurawker I got my boyfriend to fall in love with this movie and now it's going to be our wedding song lol
Alli Messina Love this movie
Dream girls, Victoria Secret Fashion Show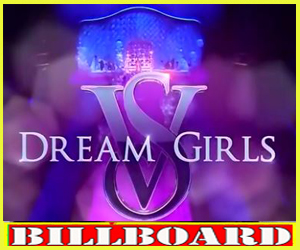 Stars-Who-Can't-Stand-Oprah
Cathy Bair Ice-cube is one of my most favorite singer/song writer and actor of all times. The Ole bat never had him on any of her shows or ever mentioned his amazing life story of how he beat all the odds and become such an amazing American icon. Endless talent and strong will. She isn't even close to being in his class. Maybe because his story of life makes her life look like a cake walk.
kieranbathory I'm glad I'm not the only one who can't stand Oprah.
Catweasle Joan Rivers hit the Oprah nail on the head.
Olivia Rangel I can't stand Oprah. People like her , they use other people suffering to be on the air.get raitings, and all those fundraising is to get credit on they're income tax. She wants to be white
Lastname Firstname No one should like Oprah... No one.
L M Joan Rivers and 50 Cent hit the nail on the head when describing Oprah. She's a fake and a hypocrite!
mute Vosburg Racists
Soloman1001 Cant stand her, never have.
Louis dino-manasaurs Joan Rivers wast totally right about Oprah! Damn it's a real shame that she's gone. She spoke a lot of truth of what goes on, sometimes hiding it behind a joke, so it wouldn't be that obvious.
Chris Lindamood I met Oprah in the aftermath of Hurricane Katrina, she was the biggest hypocrite ( diva) I've ever seen. All she cared about was ratings, blowing people off whenever the cameras weren't on
Adonis Antonio Oprah is a pimpette, an enabler and con artist.
2bczar4u If you cant see that she is a hypocritical opportunist then you all deserve her. Did no one ever see that she never really let her guests speak on her show? She constantly interrupted them with her opinions and most couldn't get a word in edgewise. Same with Streep.
Jay dee I think it's some Russian trolls in these comments