VALUE VILLAGE
William O. (Bill) Ellison grandfather and great uncle, Ben and Orlo Ellison, were instrumental in building
the Salvation Army's thrift organization in the 1930's and '40s. 
Bill opened his first store in San Francisco, California in 1954.
By 1970, the San Francisco store became a chain, and its headquarters moved north to the Seattle, Washington area.
Savers, Inc. went international in 1980 when it opened its first Canadian store on Hastings Street
in Vancouver, British Columbia called Value Village.
 In the last 50+ years, we've grown to more than 315 stores and have paid more than
$1.5 billion dollars to local nonprofits over the last 10 years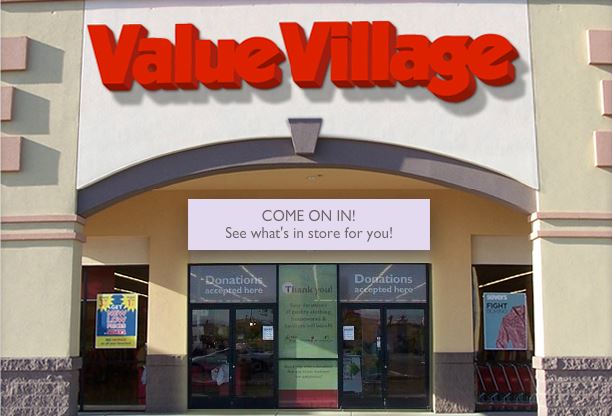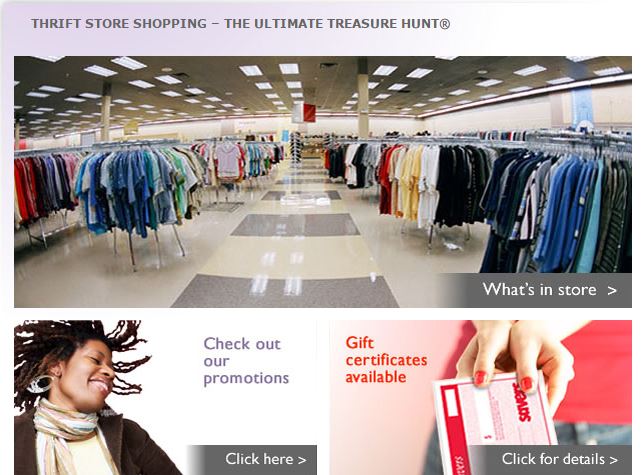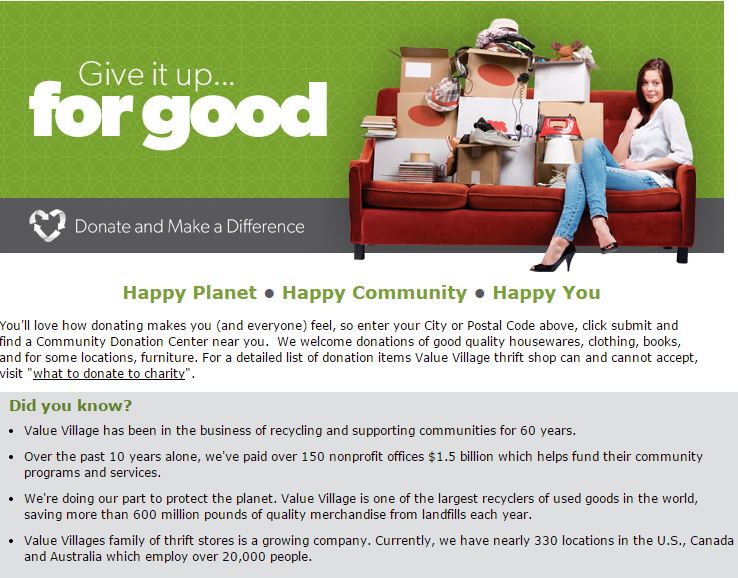 Vaughan 101 Northview Blvd Vaughan, ON L4L 8X9 (905) 850-8535
Steeles 1520 Steeles Ave W Concord, ON L4K 3B9 (905) 761-7990
Wilson 1030 Wilson Ave Toronto, ON M3K 1G6 (416) 633-2623
Rexdale 45 Woodbine Downs Blvd Toronto, M9W 6N5 (416) 675-7450
Richmond Hill 10620 Yonge St l, L4C 3C8 (905) 737-7444
Rogers Road 605 Rogers Rd, #C1 Toronto, ON M6M 1B9 (416) 247-7372
N. York 2776 Victoria Park Ave North York, ON M2J 4A8 (416) 499-6177
N. Brampton 2975 Bovaird Drive East, ON L6S 0C6 (905) 799-3618
Bloor Street 1319 Bloor St W Toronto, ON M6H 1P3 (416) 539-0585
Etobicoke 1020 Islington Avenue Toronto, ON M8Z 6A4 (416) 309-0425
Brampton 150 West Dr, #12 Brampton, ON L6T 4P9 (905) 451-7975
South Scarborough 1525 Victoria Park Ave, ON M1L 2T3 (416) 752-0060
Mississauga 1475 Dundas St East  L4X 1L3 (905) 949-4440
Danforth  2119 Danforth Ave Toronto, ON M4C 1J9 (416) 698-0621
Queen Street 924 Queen St E Toronto, ON M4M 1J5 (416) 778-4818
Markham 7655 Markham Road, Units C-1 L3S 4S1 (905) 201-6164
West Mississauga 70 Bristol Road East, ON L4Z 3K8 (905) 361-1190
Scarborough 3701 Lawrence Ave E, #1 ON M1G 1P7 (416) 439-4464
Newmarket 130 Davis Dr. Newmarket, ON L3Y 2N1 (905) 953-1344
Pickering 645 Kingston Road Pickering, ON L1V 3N7 (905) 420-1445
Oakville 2506 Hampshire Gate Oakville, ON L6H 6A2 (905) 829-1213
Ajax 155 Harwood Ave N, #D Suite D Ajax, ON L1Z 0A1(905) 427-9338
NE Burlington 2030 Appleby Line Burlington, ON L7L 6M6 (289) 812-0247
Whitby 1801 Dundas St E Whitby, ON L1N 7C5 (905) 571-4977
Burlington  2340 Fairview St Burlington, ON L7R 2E3 (905) 631-6990
Oshawa 1199 Ritson Road North Oshawa, ON L1G 8B9 (905) 443-0264
Flamborough 50 Horseshoe Crescent Hamilton, L0R 2H2 (905) 689-0565
Stoney Creek 840 Queenston Rd  L8G 4A8 (905) 664-8884
Barrie 165 Wellington W Barrie, ON L4N 1L7 (705) 733-9224
Guelph 214 Silvercreek Pkwy N Guelph, ON N1H 7P8 (519) 821-9994
Hamilton 530 Fennell Ave Hamilton, ON L8V 1S9 (905) 318-0409
St. Catharines 360 Ontario St E, ON L2R 5L8 (905) 688-7764
Ancaster120 Portia Drive Ancaster, ON L9G 0G1 (289) 204-1135
Cambridge 480 Hespeler Rd Cambridge, ON N1R 7R9 (519) 624-1812