GRACE


Our Story
If authentic Caribbean cooking thrills your taste buds, you've come to the right place. Grace Foods is one of the Caribbean's largest and most dynamic food and beverage companies in the world. We provide a wide range of delicious products that let you enjoy the unique essence and sizzle of the islands right in your own kitchen no matter where you live.
Drink in the flavour of coconut water, sodas, and tropical island juices from Grace. Spice things up with our hot pepper sauces, seasonings, and a wide range of jerk sauces for that authentic island BBQ flavour. We are always livening things up with innovative products like our new organic/natural line up of coconut products.
Grace has been bringing the best of the islands to Canadian cooks for over 25 years. Everything you need to make authentic Caribbean food recipes, you can find with Grace.
We started in Jamaica in 1922 as small traders and wharf operators. Over the years, we have grown and diversified, and our privately owned operation became a public company listed on the stock exchanges of Jamaica, and Trinidad & Tobago.
Today, the GraceKennedy Group is a network of companies located across the Caribbean, in North and Central America, and the United Kingdom.
Plus, we aren't just amazingly flavourful Caribbean food. We're also involved in banking and finance, insurance and remittance services, as well as building materials retailing.
Grace products are available in major grocery retailers, family-owned stores and restaurants right across Canada. You can usually find our products in the International or Caribbean section of stores; however, if you don't see your favourite Grace products on the shelf, be sure to tell the store manager what they're missing!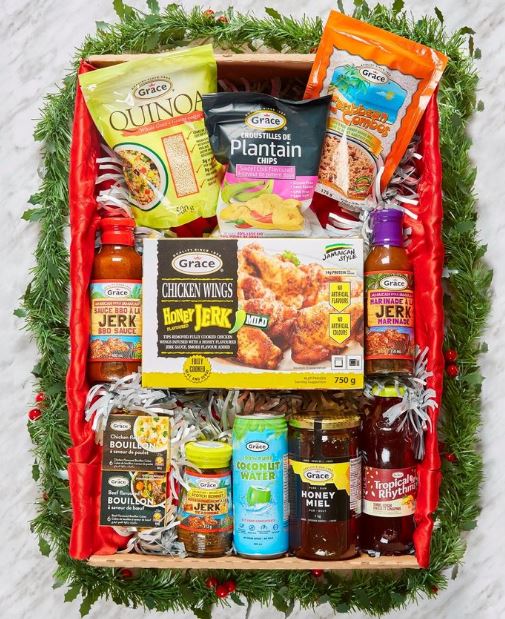 You can find Grace products in the International aisle in major stores across Canada.
You may also find our Coconut products in the Natural and Organic sections of your favourite retailer. Ask your store manager if you can't find the Grace products you would like to buy; they may stock items that customers request!