BUY-LOW FOODS
Our History
Buy-Low Foods is a privately held company purchased by The Jim Pattison Group, Vancouver, British Columbia in 1995. The company was originally founded in 1966 with the first store opening at Arbutus Street & 16th Avenue in Vancouver.
Buy-Low Foods is the largest food wholesale distributor to independents in Canada, servicing nearly 1,800 supermarket, convenience, and specialty produce markets. Buy-Low Foods also provides quality products at low, low prices directly to consumers in communities throughout British Columbia, Alberta, and Saskatchewan. Each store is unique, but shares one thing in common: a commitment to delivering great quality products at low, low food prices.
Buy-Low Foods banner is committed to delivering the best prices every day on products that matter to customers the most. Buy-Low Foods is committed to delivering great value to every community through all of its retail operations.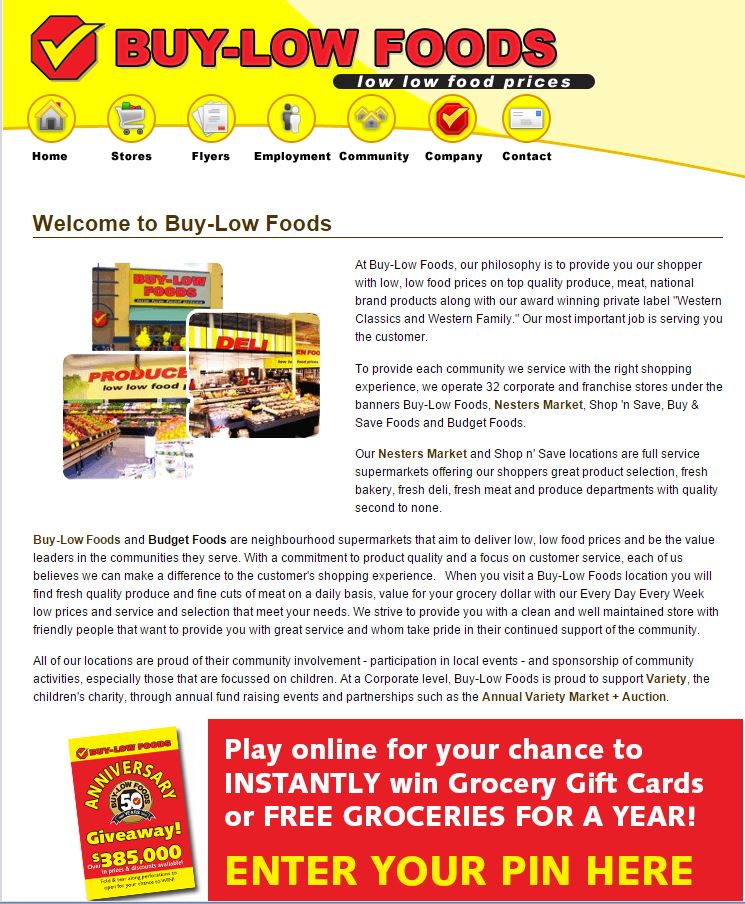 PARTICIPATING STORES: BUY-LOW FOODS Actual sale items carried may differ by location. Some items are subject to GST & + Dep. & Eco Fees. We reserve the right to limit quantities. Some items may not be exactly as illustrated. QUEENSDALE MARKET: 3030 Lonsdale Avenue, North Vancouver Week 35/39 Please Recycle This Flyer Prices effective: Sunday, August 25th to Saturday, September 28th, 2019 499 each 599 each 1199 each 999 each 899 each Western Family Sliced Bacon Selected Varieties 375 g Asian Inspirations Frozen Entrées Selected Varieties 400 g Natural Delight Pitted Medjool Dates Bard Valley 12 oz Natural Delight Whole Medjool Dates Bard Valley 1 lb Siwin Potstickers & Dumplings Selected Varieties 454 g & 500 g Olivieri Family Pasta Sauce Selected Varieties 550 ml & 600 ml Olivieri Family Filled Pasta Selected Varieties 500 g - 700 g Unomundo Baby Clam Meat Frozen 340 g JD Farms Gourmet Turkey Burgers Frozen, 454 g 499 each 499 each Grimm's Sliced Meats Selected Varieties 125 g - 175 g 399 each 999 each Sunrise Soft Tofu 350 g Mann's Nourish Bowls Selected Varieties 240 g - 312 g Sunrise Dessert Tofu Selected Varieties 2 x 150 g Litehouse Organic Vinaigrette Dressings Selected Varieties 355 ml Sunrise Medium Firm Tofu 454 g Fresh Gourmet Croutons Selected Varieties 142 g Litehouse Opa Salad Dressings Selected Varieties 330 ml & 332 ml Mr. Noodle Udon Noodles 200 g 149 each 499 each 199 each 149 each 499 each 399 each Belmont Meats Homestyle Beef Burgers Selected Varieties Frozen, 852 g 649 each Olymel Nitrite-Free Sliced Meats Selected Varieties 150 g Olymel Nitrite-Free Wieners Regular & Jumbo , 450 g or Sliced Bacon, 375 g 349 4 each 99 each Frozen or Thawed Johnsonville Sausage Links Selected Varieties 250 g - 500 g 469 each 799 each • KINGSGATE MALL: 370 East Broadway • FRASER STREET: Fraser Street at 45th Ave. • BURNABY: 7641 Royal Oak Ave. • 5901 E. Broadway (Parkcrest Plaza) • LANGLEY: 4121 200th St. • SURREY: #14865 - 108th Ave. • HOPE: 489 Wallace St.• OLIVER: #105 - 5717 Main St. • OSOYOOS: #3 - 9129 Main St. • GRAND FORKS: 7370 - 4th St. • LILLOOET: 155 Main St. (Old Mill Plaza) • VERNON: 5301 - 25th Ave. • PORT ALBERNI: 4647 Johnson Road • CLEARWATER: #101 - 365 Murtle Crescent • HOUSTON: 3232 Highway 16W • KEREMEOS : 701 - 7th Ave • NANAIMO: #100-530 Fifth Street ALBERTA: • ATHABASCA: 4919 48th St. • LANGDON: #101- 97th Centre St. SW • BOYLE: 5127 4th St. SASKATCHEWAN • TISDALE: 354 - 100 A St. • KINDERSLEY: #608-12 Ave E
Welcome to our weekly flyer page! Here you can find great weekly deals on various items throughout all our stores. If you don't want to miss out on our deals please signup to our weekly e-flyer below. Go ahead and bookmark this page now!
Please select a store closest to you. If you would like more information on each store, please visit the store's page for detailed information as well as map directions.


Our Community Initiatives
 All of our stores and staff are committed to supporting the communities in which we live and do business. We have been involved in community support for over 40 years.
On a store level, we invite our shoppers to discuss opportunities that we can get involved in together to support fundraising and projects.
We are involved in assisting schools in adding equipment, protection of historic sites, providing meeting rooms for volunteer organizations, holding hot dog sales for sports teams, school bands, and local clubs.
As a company, each year we make a major contribution to Variety - the children's charity through our programs, "Kids in the Park", "Variety Vintage Market" and, our annual Retailer/Supplier Golf Tournament.
We are committed to the communities we serve.
Do you have a community event or link that you would like to promote? Please call the store manager in your community or e-mail us at events@buy-low.com.
Or if you prefer, you can use our Online Form to submit your link.
Department Contacts: