HIGHLAND FARMS
From the moment you arrive at one of our two state-of-the-art supermarkets, Highland Farms has all your food and flavor needs covered.
Offering everything you could possibly need in a clean and friendly environment, Highland Farms provides you with freshness down every aisle.
From fresh produce, meat and seafood to freshly baked goods and prepared foods, our supermarkets also offer organic and natural alternatives for the healthy at heart.
Another added difference – refreshingly beneficial flyers.
Beyond incredible savings, there are thousands of in-store specials every day on the items you use the most! For fifty years, Highland Farms has taken a fresh approach to groceries, offering customers the highest quality products, backed by a commitment to customer service and unparalleled value.
Come taste the difference freshness makes.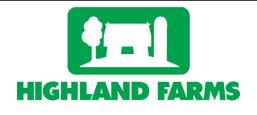 Every shopping trip is a flavour adventure, with shelves and counters fully stocked with favourites from around the world.
Our deli and meat counter is legendary, with cuts, cheeses and other freshly prepared foods made just to your liking.
And, it's all at a great price – along with our flyer deals each week, you'll enjoy thousands of in-store specials every day on items you use most. Drop by and say hello, and explore freshness down every aisle.