APPLE JUICE
Where are the apples in your juice from?
IF THE LABEL TELL YOU (CANADA CHOICE) THIS DONT MEANS THAT APPLES
ARE FROM CANADA THE LABLE MUST SAY FANCY GRADE CHOICE GRADE STANDARD GRADE
Most apple juice products for sale on Canadian shelves are being made with foreign concentrate, but consumers would never know it.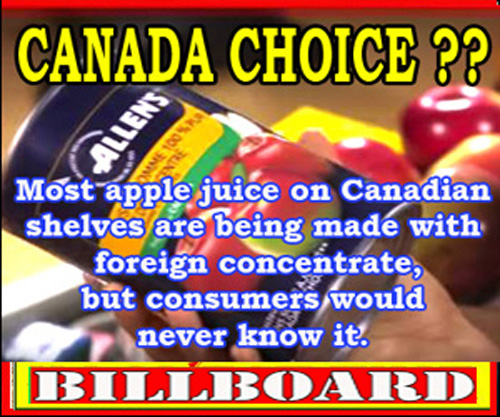 Erica's Adventures I spent July in Scotland. Their labels on produce (e.g., a pack of strawberries)
not only said the country where it was grown but the name of the farmer as well! I loved it and it encouraged me to buy local. I actually started to get familiar with the small differences between the varieties produced by different farms.
Even processed foods had an emphasis on local ingredients on their labels (e.g., a bag of chips has a label stating "100% Great British Potatoes"). Companies should start voluntarily labeling when using local sources.
 I'd certainly seek them out to support them if so.

N Shaw That lady's a bold-faced liar listen to her response and reply most likely she's taking a huge payout from these companies to be so evasive deceptive and ignoring the truth.
Tony Tan That lady from the Food Label Agency is definitely getting lobbied. Crazy the power a lobbyist has.
paulson thomas 
That orange lady is stuffed with corporate money that's why she keeps giving silly reasons
Where are the apples in your juice from?