4750 Dufferin St. / Supertest Rd North York Ontario
"A World of Food™" is the essence of what Coppa's Fresh Market lives by.  
 It represents the depth and variety available at our stores and our commitment that you will always find what you are looking for, including unique and exclusive food items from around the corner…and around the world!
Coppa's Fresh Market is a family-owned and operated grocery store chain in the Greater Toronto Area. We are committed to providing a truly authentic grocery experience, where customers get exceptional value, great service, and selection of the finest quality food from around the corner…and around the world!
Our roots are deep in the grocery business. In 1963, the Coppa family opened our first grocery store at 1558 Queen Street West in Toronto. Since then, our commitment to providing great food with exceptional value has never changed, which is our commitment to excellence for our customers.
WE HAVE FOUR (4) LOCATIONS TO SERVE YOU:  

NORTH YORK:  4750 DUFFERIN STREET, NORTH YORK, ONTARIO  M3H 5S7       416-736-6606

SCARBOROUGH: 148 BENNETT ROAD, SCARBOROUGH, ONTARIO  M1E 3Y3       416 282-5759
VAUGHAN:  3300 RUTHERFORD ROAD, VAUGHAN, ONTARIO L4K 5Z2                 905-303-3999
KING CITY:  1700 KING ROAD, KING CITY, ONTARIO L7B 0C6                             905-303-8612


We take great pride, passion, and care in bringing you an authentic global shopping experience; one that joins the flavours of the world under one roof with the freshest and widest variety from around the globe and our own backyard.
So, thank you for shopping with us. And if you've never been to Coppa's, please come by and discover
FRESH CATCH
We have a terrific selection of fresh fish and seafood that will be the hero of every meal. Looking to try something new? Come and see our terrific selection - we are committed to bringing you the freshest and widest variety of both "Wild" and "Farm Raised" seafood from around the world.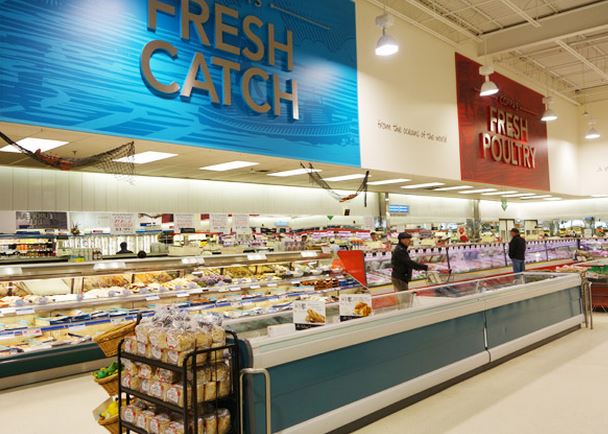 FRESH FIELDS
Enjoy the FRESHEST fruits and vegetables from around the corner and around the world! At Coppa's, our produce is a sight to behold.
We are famous for the quality, Variety, and FRESHNESS of our fruits and vegetables..
The quality of produce at our stores is simply second to none.
We also feature local produce in season and are proud to support local Ontario farmers.
Knowing that today's families want to eat healthy, Organic produce is a mainstay for us.
We are committed to having the deepest variety of fresh organics anywhere! Devotion to quality and service is a daily mantra in every one of our stores produce departments.
Our "BACKYARD FRESH " program guarantees you'll find the freshest and largest variety on fruits and vegetables. So come in and explore!
BUTCHER'S CUTS
Come to Coppa's and get to know your butcher! They are passionate about serving customers, so whether you're looking for a special cut, a special order or cooking tips, just ask.
All our beef is 100 % Canadian and aged a minimum 21 days before trimming in order to achieve optimal flavor ensuring the most enjoyable eating experience.
We carry a full range of beef cuts from perfect roasts, to barbeque-ready steaks and freshly ground beef. We also carry a large variety of store-made sausages, Grill ready kebobs and specially seasoned and marinated meats.
Our commitment to ORGANICS is also showcased in our meat departments with the largest and freshest selection of Fresh Organic Beef, Chicken and Pork.

EUROPEAN DELI
Great food is at the heart of Coppa's Fresh Market. Walk into our cheese department and you'll find hundreds and hundreds of the best cheeses from around the world and around the corner.
From our exotic cheeses , to our signature hams, and our wide range of imported deli products, you'll be sure you can taste the freshness and quality of each of our products. From exotic to mainstream, mild to zesty, smooth to firm, we have the variety for every taste and occasion.
FLOWER SHOP
The natural beauty of fresh flowers and plants is a great gift that everyone enjoys. So for love, friendship, thank you's, or just to brighten someone's day, we carry floral bouquets of everyday favorites like; roses, lilies, orchids and hydrangea, and seasonal stars such as; tulips, peonies and sunflowers.
Come and explore our fresh cut and potted flowers, great for any special occasion…or every day smiles! With a great selection and terrific prices, you can be sure that flowers from Coppa's Fresh Market will brighten the day.
OVEN FRESH BAKERY
MARKET CAFÉ