FLAME SHAWARMA & GRILL AND DELI
phone: 905-673-8646
2515 DERRY ROAD MISSISSAUGA, ONT L4T 1A1
Welcome to the FLAME SHAWARMA & GRILL HANGAR GRILL and DELI Conveniently located at 2515 Derry Road at Torbram in Mississauga, Ontario.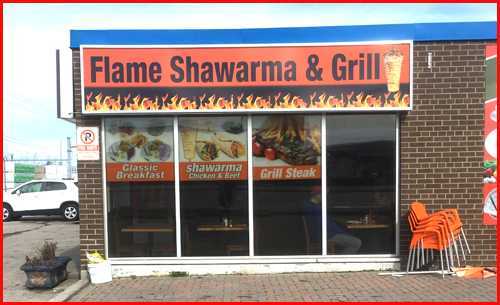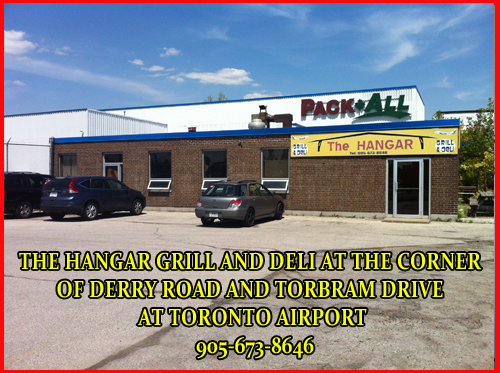 Open Monday to Saturday from 7 a.m. to 7 p.m.  
The HANGAR GRILL has been at this location 40 years and presently, with new owners, the HANGAR GRILL has been refurbished and has expanded its menu to a diverse clientele. 
The restaurant has lots of parking, even accommodating Tractor Trailers in the adjacent parking lot. 
The atmosphere is clean and the food is excellent.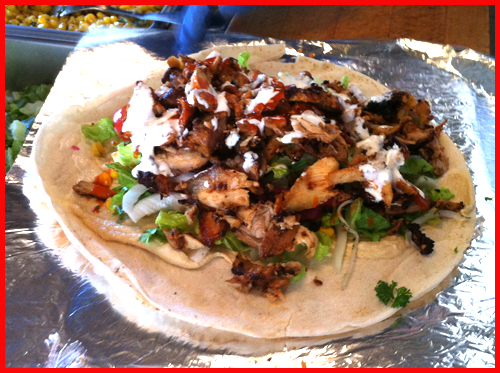 While enjoying your meal inside or on the patio, you have a wonderful view of the north side of Pearson International Airport where you have a great view of airplanes departing or get an up-close view of a jet directly across the street.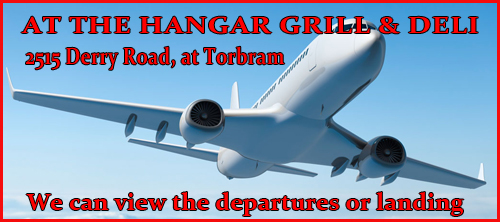 Thus the name of the restaurant, HANGAR GRILL DELI, is quite appropriate.
Come in and enjoy a great, traditional, classic breakfast:  Eggs, Toast, Sausage, Bacon, Ham, Home Fries, Omelettes, Grilled Cheese, BLT (Bacon Lettuce Tomato), Western Sandwiches, Peameal Bacon on a Kaiser with Cheddar.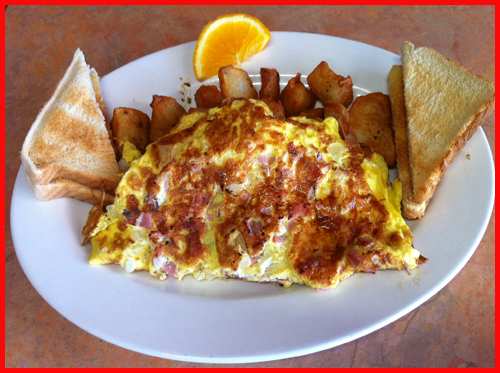 Many of the above are all under $5.00. 
On the other hand, should you need a tantalizing lunch or a full course meal, how about a Gyros, Falafel or Shawarma on Pita Bread.
Steak, Burgers and fries, Shish Kabobs, Garden or Greek Salad, BBQ Chicken, Fattoush, Kafta, Shish Tawouk or Tabbouleh.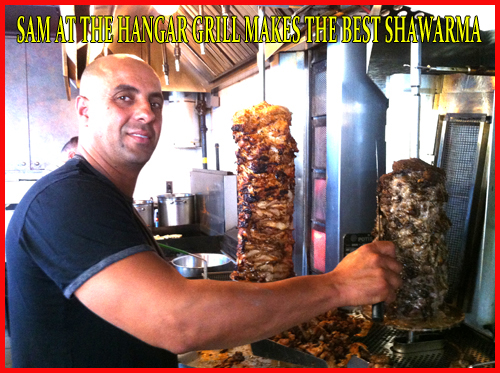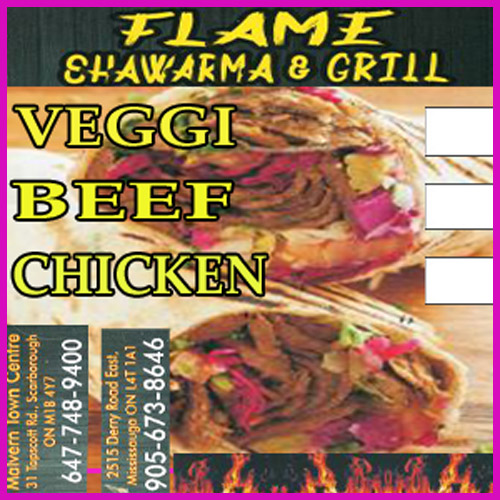 You may speak directly to the owners, Milad, and Sam who are there to serve you.
They are both very friendly and welcoming giving the HANGAR a personal touch. 
You will be surprised at the size of the meals and may relish the pleasant home-style appeal of the environment.   
Ms. Hayet will deliver your meal to you with a wonderful smile.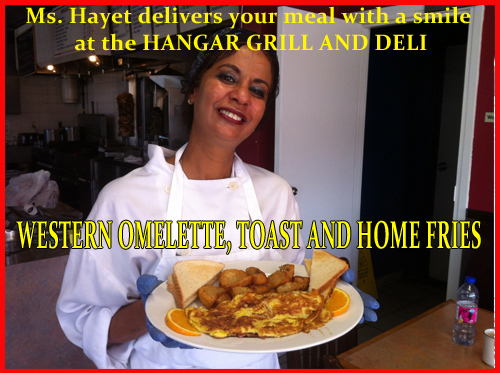 For travelers at the Airport or surrounding hotels and motels, the HANGAR is nearby so you do not have to travel far to enjoy a great breakfast, lunch or early dinner.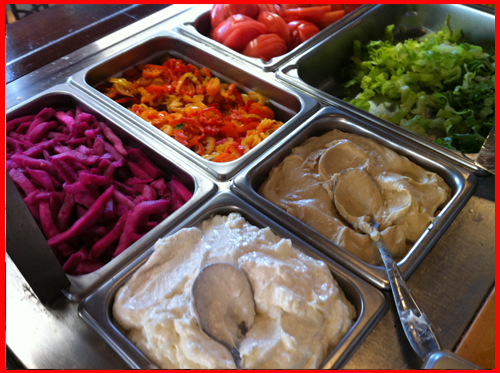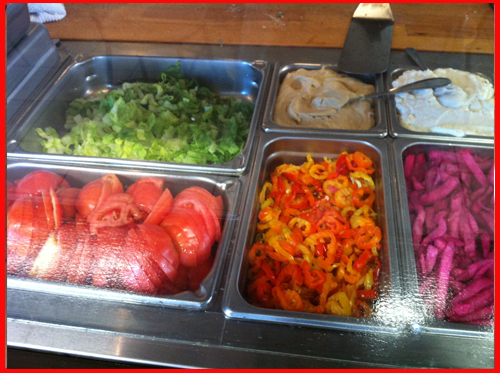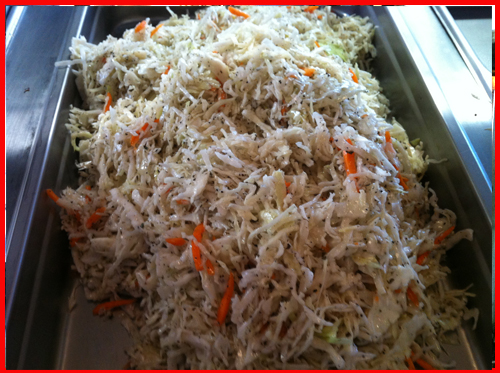 We have a varied selection of beverages and assure you that even the coffee is delicious.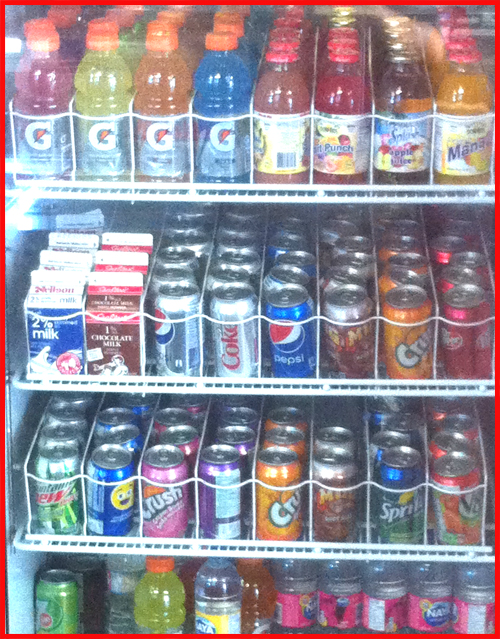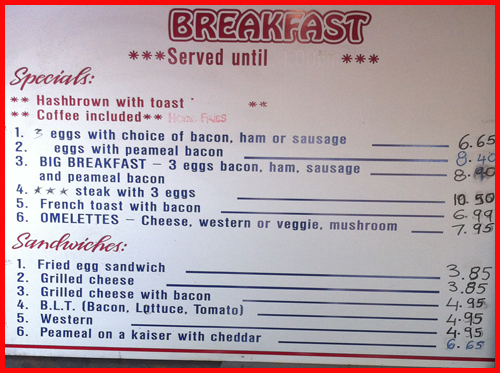 Should you have a special occasion coming up call Malid or Sam at
THE HANGAR GRILL AND DELI for your catering needs.
Attention Truck Drivers:
If you are a truck driver and in a rush to deliver or pick up a load, call the HANGAR and place your order in advance at 905-673-8646 and stop your tractor and trailer on Torbram and Derry, pull in for a moment and pick up your meal. 
If the other driver blows their horns because you are blocking the intersection tell them to wait for a moment because you are picking up the best meal in the world.
If they do the same, then the whole intersection will be congested with traffic and therefore, all the news stations, BBC, CBC, NBC, ABC, CNN, The World News Network, Brampton News, Mississauga News, and all the others will announce that the congestion is because The HANGAR GRILL & DELI is serving the best breakfast, lunch or dinner in the whole world.  
And that is the truth and nothing but the truth!
PERU MISSION.

This Article takes you to a world you may not know existed.
To all who have the time to explore this link, we thank you, we thank you.
We are you providing you with two telephone numbers for Mr. Nikos Kladitis 416-497-6462. Mrs. Vasiliki Aphantitis 416-494-5794.  
Who knows a telephone call to either number may be one of the most important phone calls you have ever made

Volunteers are always welcome!