NATIONAL SPORTS
At National Sports, our vision is to create a unique retail experience that seamlessly meets the needs of the sports communities in which we serve.
The National Sports story started when Norm Clements created National Gym Clothing Limited, in 1968.
Although he started out selling sports equipment from the trunk of his car, his passion couldn't be contained and the company expanded to include multiple retail stores in Southern Ontario.
Now owned by FGL Sports Ltd. and its parent, Canadian retail icon Canadian Tire Corporation, National Sports continues to provide outstanding selection, pricing and service to its loyal Customers across Ontario.
We believe team sports are unique because they create a sense of community for the players, their families and fans.
Yet every community needs a centre – a place they can go for resources, counsel, expertise and support.
That's where we come in. We offer the broadest selection of the best brands for team sports, and hire only knowledgeable staff who are passionate about helping you raise your game.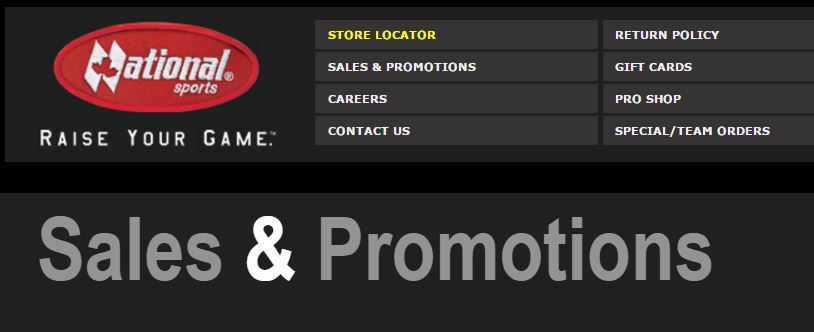 National Sports is your Pro Shop Headquarters!
Whether you are a player, parent, coach or trainer, let National Sports ensure your equipment is properly fitted and ready to play.
Your equipment is a major investment and requires professional fitting and fine tuning in-season.
Our professionally trained Pro Shop Technicians offer the following FREE services:
Professional Skate Fitting
Face Mask Installation
Helmet Adjustments
The following services are also available for an additional fee:
Performance PlusPerformance Plus Sharpening System
The Performance Plus Boot-to-Blade inspection of your skate
The Performance Plus Hollow to match your style of play
The Performance Plus Level check to ensure consistent sharpening
The Performance Plus Final pass to finish your blades
The Performance Plus Commitment that your skates will be Game Ready!
First sharpening free with purchase of new skates
Flat Bottom V Skate Sharpening
Skate Tune-ups
Custom Radius Contouring (Individual and Team Contouring Consultation Available)
Computer Aided Grinding (CAG One available at select locations)
Blade, Rivet, Runner and Holder Replacements & Tightening
Raise Your Game with our team of professionals behind you!