CARIBBEAN SHARE NEWS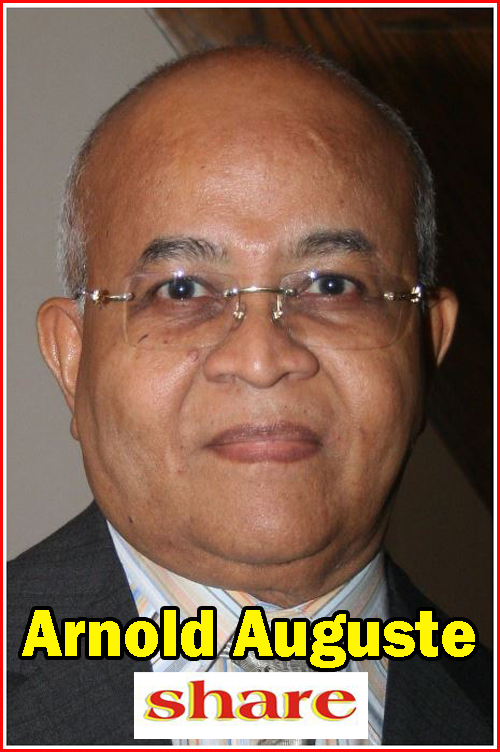 Arnold A. Auguste came to Canada from his native Trinidad and Tobago in 1970.
In 1972, he was invited to write a column for the community newspaper, Contrast.
His first column appeared on September 2, 1972. The response from readers to his writing and his exposure to the community over the next year convinced him that he could make a contribution as a journalist in Toronto's Black and Caribbean community.
In September, 1973, he entered Ryerson (now Ryerson University) to study journalism while he continued to write for the newspaper.
Because he had embarked on his journalism studies in order to work in the community, he launched ShareNewspaper on April 9, 1978.
Thirty-seven years later, Share has become one of the largest, most respected and most successful ethnic newspapers in Canada.
Auguste says Share gives him and other community journalists/commentators the opportunity to address issues of concern to the community and provide positive stories that could be encouraging to the members of the community, especially the youth.
Share Online Inc., operating as Sharenews.com, is the website of Share Newspaper, a weekly community newspaper which has served the Black and Caribbean community in the Greater Toronto Area (GTA) of Ontario, Canada since April 9, 1978.
Share was founded by its publisher, Arnold A. Auguste, who came to Canada from his native Trinidad and Tobago in 1970 and began his journalism career as a columnist with a weekly publication in Toronto in 1972.
He worked as a reporter while studying journalism at Ryerson Polytechnic Institute (now Ryerson University) and left that publication as managing editor in 1978 to start Share.
Over the years, Share has grown to become one of Canada's largest and most influential ethnic newspapers and by far the largest one serving the Black and Caribbean community in the GTA.
Unlike most dailies, the focus of community newspapers is primarily to provide positive news about their target markets and to give their readers valuable information and stories they normally would not get in the mainstream media. Share is no different.
Most of the stories on local events covered in Share do not appear anywhere else.
Share's mandate has been to encourage, support, represent positively and to defend the community vigorously while educating and sharing information. It has done so without fear or favour for over 30 years.
As a result, Share has earned enormous respect within both the community and the wider society.
Share Online Inc., through its website, sharenews.com, continues this tradition. With much of its content coming from the pages of Share Newspaper, viewers can enjoy their favourite read online, as well as added features, articles, sources of information and the chance to exchange ideas with other viewers.
The goal of Share Online Inc. and sharenews.com is to provide a forum where important issues affecting the community can be discussed and debated, while we provide both informative and entertaining content.
Please use our feedback options to let us know what you think of our website or to begin a dialogue on issues of importance to you.
Posts, of course, will be monitored to ensure they meet the standards established by Share over the many years.
To contact Share Newspaper, email share@interlog.comor call 416-656-3400.