Miracles Still Do Happen
  Mr. Spyros Peter Goudas gives substantial support to senior citizens homes, community housing sites (for various ethnic nationalities), Philanthropic Associations, charitable organizations, cultural organizations, scholarships events, Philoptochos Society's organizations, orphanage housing, numerous institutions, organisations, associations, disaster relief efforts, food banks and churches irrespective of its members affiliations, colour, ethnic background, race or religious persuasion. 
His association with this Article is no different from his association with various other foundations, charities and organisations and as such must not be interpreted as a specific inclination towards this religious belief system. 
Should you view the letters of appreciation on Mr Spyros Peter Goudas website   you will find evidence of his involvement with various religious and non religious organisations, provided you have enough time to read them.   
This book written by Spryros Peter Goudas reflects a period of severe discomfort with pain in his back, floaters in his eyes impeding his vision.
The book portrays a wonderful story with a happy ending with a intense period of pain and restriction of movement almost to the point of paralysis and blindness.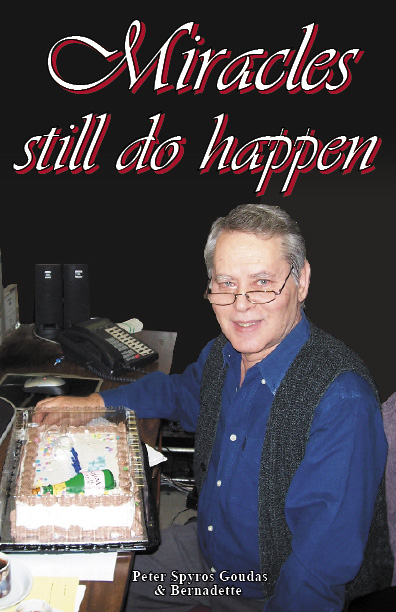 Within the story, the name of Saint Paraskevi emerges and we have incorporated a link for anyone who wishes to know about her.
Miracles Still Do Happen has been translated into many languages and has been printed in several magazines and newspapers.
Approximately one million copies have been circulated and has been a source of inspiration to many, even people in critical care or even in their final moments, after reading this book, still have hope.
This book is not aimed at enticing you to change your religion, we have placed it in this section of FlyerMall as a source of inspiration.
It is well known that Spyros Peter Goudas does not attend Churches very often, however, examine his Letters of Appreciation in this link and you will be amazed at the extent of his generosity and philanthrophy to many different religious organizations and associations, homes for the aged, homeless, food banks, etc., etc .