GIANT TIGER
2480 Walkley Road Ottawa, ON K1G 6A9
About Giant Tiger
Giant Tiger is the all-Canadian family discount store for Fun Smart Savings.
Friendly and fun, Giant Tiger stores are stocked with affordable, on-trend home and family fashions, brand-name groceries and everyday necessities at low prices. Each trip to a Giant Tiger store is unique, with fun surprises and new deals to be discovered in store during each visit. Giant Tiger delivers low prices and outstanding value to its customers every day.
Canadian owned and operated since the first Giant Tiger store opened in 1961 in Ottawa's historic ByWard Market, today the privately held company has more than 200 stores in 8 provinces across Canada and employs more than 7,000 people. Giant Tiger's home office is located in Ottawa, ON at 2480 Walkley Road.
Giant Tiger is a proudly Canadian family discount store with convenient locations in many Canadian communities. Almost all Giant Tiger stores are franchised and stores are connected and committed to the communities they serve. Store owners work in the store and live in the community. Each year, Giant Tiger donates millions of dollars to local charities, groups, teams, events and associations, supporting and bringing together Canadians and their communities.
Friendly, the Giant Tiger is the official mascot and makes hundreds of appearances at various charity and community events, store openings or celebrations. Friendly is guaranteed to make every event fun and memorable for children and adults alike.
Across Canada, stores operate under the trade names of Giant Tiger, Tigre Géant, GTXpress, Scott's Discount and Chez Tante Marie.


 CLICK FOR HISTORY

SHOP ONLINE & PICK UP IN STORE FOR FREE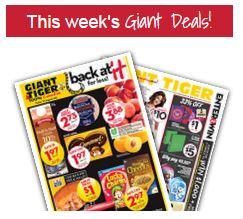 * Delivery times may be subject to the shipping location, holiday peak periods, and any national or provincial statutory holidays
If your order does qualify for FREE Standard Shipping (order over $75 before applicable taxes and shipping fees), you may choose to apply the shipping credit earned towards Priority Shipping to get that at a discounted rate of $5.00.
Shipping surcharges will be applied to select items based on its size and weight. Please see individual product pages for details to determine if the item will have a shipping surcharge applied.
Your actual shipping cost will be listed during checkout and charged to you when your items are shipped.
Delivery is Monday to Friday from 8 am to 5 pm in your local time. If the delivery cannot be completed (for example, if you're not home), the carrier may attempt another delivery, or leave notification at your door instructing you where and when you can pick up your order.
Please note that Giant Tiger is not responsible and cannot be held liable for delivery delays that may occur as a result of poor weather conditions.
Delivery Locations
We will ship to any location in Canada!*  We also accept orders from the United States that are placed with an American credit card as long as the shipping location is an address within Canada. 
UPDATE: Shipping Restrictions
Please be advised that Giant Tiger Stores Ltd. has temporarily discontinued shipping to Newfoundland and Labrador as well as the Canadian Territories due to issues in providing our customers with cost-effective shipping options to these locations. Please rest assured that this is a temporary restriction and that we are working on a solution to be implemented in the very near future. We apologize for any inconvenience this may cause.
PO Box Addresses
At this time, we cannot ship to a PO Box address.