HALPE TEA
33 FARMBROOK ROAD, SCARBOROUGH, ON M1J 2S3 CANADA
 For North American Orders or Inquiries (Canada/USA)
Please contact Karl @ (416) 629-6990 or sqkaru@gmail.com
About Halpè Tea - Premium Ceylon Tea
Founder Mr. A. P. D. Abeyrathne, acknowledged his commitment to tea in 1971 when he acquired the Uva Greenland Tea estate, once owned by a British national.
Since then, with great diligence and empathy towards a growing clientele, he has been of service to many people around the world, producing some of the freshest and finest Ceylon tea Sri Lanka has to offer.
Nearly three decades later, today he is joined by his beloved wife and three sons who all share the same passion and commitment towards producing that perfect cup of premium Ceylon tea.
Still a family business at heart, Halpé Tea continues to lay its focus beyond mere commercial gain, with a devotion to producing the best of tea with a personal touch of care and great detail of quality.
Halpewatta Tea Factory Team
Our skilled team of industry experts takes utmost care in brewing a range of high-quality teas utilizing the modern state-of-the-art machinery and manufacturing procedures. Our expert team of tea- tasters, and connoisseurs work round the clock to bring you innovative blends and brews to keep improving your experience with Halpè tea each day.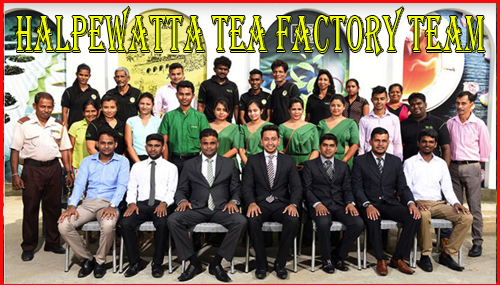 The modern state of the art factory
The modern state-of-the-art factory ensures maximum hygiene of your tea leaves by following automated processing across its entire chain of production which has minimum human contact.
We do not store our teas in warehouses thus we ensure the freshness and real taste of our teas as soon as we manufacture them.
We are a vertically integrated operation, where our teas are plucked from our very own plantations (Hence able to ensure the highest standards of quality in all our products), then manufactured and sold directly without the involvement of intermediaries.
We do not lower the quality of tea by blending with teas obtained from other sources. Our tea is provided 'as it is'
Lion logo of quality– Halpé tea is a proud bearer of the Lion logo, a symbol of quality granted by the Ceylon Tea Board, the apex body, regulating the tea industry in Sri Lanka. The Lion logo, therefore, epitomizes the high level of quality of our products.
If our buyers wish to source tea from a particular region or a factory (Eg: Nuwara Eliya, Dimbula, Kandy, etc), we are geared to source such requirements directly eliminating the involvement of intermediaries.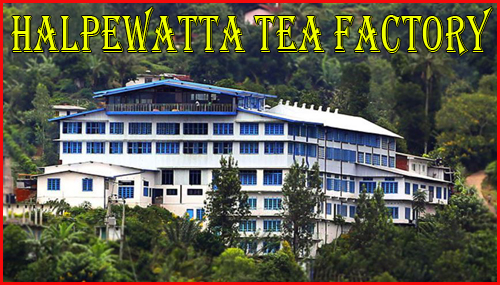 CLICK TO VIEW OUR VIDEO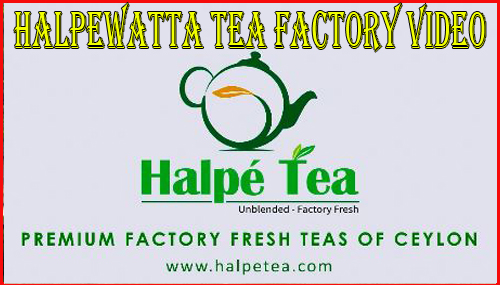 Our Awards As Best Ceylon Tea

The trust our customers have bestowed upon us as the best Ceylon tea over the years has inspired every single member of the Halpé Tea family to continue to raise the bars on quality.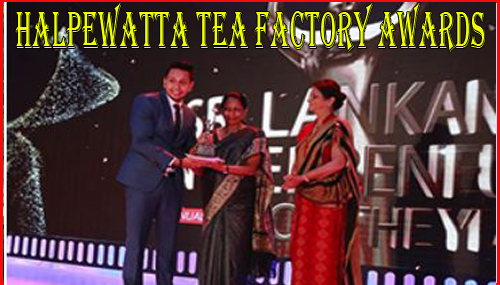 Health Benefits Of Ceylon Green Tea
As we now know that Ceylon Green Tea has a stronger flavour, it is safe to say that it contains copious amounts of anti-oxidants, more than black tea for that matter. Green tea is famously known to increase your metabolism which ultimately results in burning unwanted fat in your body.
Green tea has a vast amount of anti-viral and anti-bacterial qualities. Its daily consumption has proven to reduce osteoporosis. The antioxidants found in green tea have been proven to help reduce bone loss and in turn, increase bone-building muscles.
Green tea is also known to reduce oral health problems. The catechins present in green tea can kill bacteria and viruses that cause sore throats, dental cavities, gum diseases, and bad breath.
Green Tea improves brain functions and protects your brain during old age. The catechins present in green tea have protective effects on neurons which in turn can reduce the risk of Alzheimer's and Parkinson's.
Green tea is also known widely to reduce the risk of heart diseases and cancer. The catechins found in green tea stalls cell mutation and reduce the risk of tumours being formed. Likewise, these catechins also help in relaxing your blood vessels and giving it an even flow and preventing clots from forming which reduces the risk of heart attacks.
Health Benefits Of White Tea
The amount of caffeine present in White tea is less compared to green and black tea and has more anti-oxidants. Since white tea is processed less it has all the nutrients intact and is the healthiest of teas. The health benefits are similar to that of green tea but its effectiveness is doubled due it the nutrients present.
White tea can help you reduce stress and anxiety this is due to the amino acid called Theanine. It can calm your nerves and is also well-known o prevent depression.
Like Green Tea, Ceylon white tea is also a great fat burner, the rich amounts of polyphenols help reduce fat accumulation and increase your metabolism. Just like green tea, it is also helpful in reducing the risk of heart disease, lowering levels of cholesterol, help build stronger bones, and kills bacteria and viruses present in your body. White tea has properties that help in reducing your blood sugar which in turn reduces the risk of diabetes.
Ceylon Tea has qualities and benefits that are essential to your life. Next time substitute your cup of coffee for a delicious cup of Ceylon Tea and enjoy the benefits it has to offer.
Halpé Tea started manufacturing pure Ceylon tea as a family business in the early 1970s with its own tea factories and plantations. Today, Halpé Tea has grown into one of the largest tea exporters in Sri Lanka and exports its produce directly from its very own factories to your doorstep becoming the only large-scale "manufacturer + exporter" from any region of Sri Lanka. Below are the ranges of export options available for your convenience.
This is the first, most crucial step that you need to go through to complete your export order. We have a wide variety of single estate/classical blends for English Breakfast, Earl grey, afternoon tea or herbal tea in best, below best and average options to fulfill your requirement depending on the target market you wish to focus in your homeland. We will be very happy to provide our professional assistance in selecting the most suitable type of tea to fit your target market.
We provide a full list of traditional & organic Black and Green teas from all regions of Sri Lanka as well as a wide variety of fruit tea, herbal tea, flavoured tea, infusions, white tea (golden tips & Silver tips), etc for your requirement. We also undertake developing new and exciting blends according to your customer requirements.