ZEA FOODS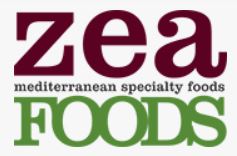 ZEA FOODS Mediterranean Specialty. Since 2008 we have focused exclusively on the food industry, with a special specialty in sweets (syrups, patisserie), biscuits, breadsticks, frozen pies, olive oil, olives, etc.
Our market is 22 countries in Europe. Our customers are distributors (in restaurants, café), chain cafes, small retail chains, deli shops, etc. We also have 3 small locations in North America (a market that interests us to develop and for the products we promote in Europe) that we trade olive oil and olives.
For all these products that we market we have exclusive market and distribution relationships (monosomic and outsourcing export department) with certified and selected production factories which we have directed aftermarket research (primary and secondary) in the type of products, they will produce (code packaging, tastings, prices, etc.) to be accepted by the international market and to match the product profile with every market we address.
With this relationship, we have created economies of scale for our suppliers on the one hand, and on the other hand, we provide them with the knowledge of a huge market-ready.
So with the provision of these two elements, which in order for each company to acquire them, it would need to tie up capital and create high cost and risk actions, We manage to have very competitive prices.
---------------------------------------------------------------------------
ZEA FOODS Mediterranean Specialty. Οι ανθρωποι της επιχειρησης μας ασχολουνται με την πωληση προιοντων στην διεθνη αγορα απο το 1990.
Απο το 2008 επικεντρωθηκαμε αποκλειστικα στον χωρο των τροφιμων , με ιδιαιτερη εξειδικευση στα γλυκα (συροπιαστα, patisserie), μπισκοτα, κριτσινια, κατεψυγμενες πιτες , ελαιολαδο , ελιες κ.α. Η αγορα μας ειναι 22 χωρες στην Ευρωπη.
Οι πελατες μας ειναι διανομεις (σε εστιατορια, cafe), αλυσιδες cafe, μικρες αλυσιδες λιανικης, καταστηματα deli κ.α. Επισης εχουμε 3 μικρες τοποθετησεις στην Βορεια Αμερικη (αγορα που μας ενδιαφερει να αναπτυξουμε και για τα προιοντα που προωθουμε στην Ευρωπη) που εμπορευομαστε ελαιολαδο και ελιες.
Για ολα αυτα τα προιοντα που εμπορευομαστε εχουμε αποκλειστικες σχεσεις αγορας και διανομης (μονοψωνιο και outsourcing export department) με πιστοποιημενα και επιλεκτα εργοστασια παραγωγης τα οποια εχουμε κατευθυνει υστερα απο ερευνες αγορας (πρωτογενεις και δευτερογενεις) στον τυπο των προιοντων που θα παραξουν (κωδικος, συσκευασια,γευσεις, τιμες κ.α.) για να ειναι αποδεκτα απο την διεθνη αγορα και να ταιριαζει το προφιλ των προιοντων με την καθε αγορα στην οποια απευθυνομαστε.
Με τη σχεση αυτη που εχουμε δημιουργουμαι οικονομιες κλιμακας για τους προμηθευτες μας απο την μια και απο την αλλη τους παρεχουμε ανεξοδα την γνωση μιας τεραστιας αγορας ετοιμη.
Ετσι με την παροχη αυτων των δυο στοιχειων, που για να τα αποκτησει η καθε επιχειρηση θα χρειαζοταν να δεμευσει κεφαλαια και να δημιουργησει ενεργειες υψηλου κοστους και ρισκου, καταφερνουμε να εχουμε και πολυ ανταγωνιστικες τιμες.
Αυτο μας δινει την δυνατοτητα να παρεχουμε προιοντα εμπορικα και επικαιρα στους πελατες μας, αλλα και να εχουμε γραμμες παραγωγης διπλα μας που μπορουν να μας προμηθευουν με καθε προιον που μας ενδιαφερει στην συσκευασια και στην τιμη που μας ενδιαφερει.  
SITEMAP