COOP

What is a Co-op? 

A co-op is an association of persons who have voluntarily joined together to provide themselves with a business that can supply them with products and services at minimal cost. The control of the business is in the hands of its member-owners who are legally the owners.

It is also an organization where democratic control is the practice; an organization controlled by people, rather than dollars; an organization where member-owners have one vote and one vote only, regardless of how much money they have accumulated in share capital. 

What do co-ops do?
Co-ops are actively involved in a wide range of activities from securing employment to satisfying the economic and social needs of their members and the community as a whole. Today, co-operatives have diversified into almost all fields of business activities including, but not limited to: retail grocery stores, real estate and housing, transportation, industrial and commercial production, banking and credit institutions and day care... and the list is growing every day.

Who's the boss?
As the co-op is formed by the members for the members, the membership, as a whole, is the boss.

Members exercise their power at the annual general meeting held annually, which all members are urged to attend. Thus, the annual general meeting is a critically important event in a co-operative society. It is at this meeting that the members appoint the Board of Directors from amongst the membership, choose the auditors, review and approve financial statements as well as the Board's and manager's reports.

Who manages the co-op?
The Board of Directors are elected at the annual general meeting from amongst the members. They are entrusted with the management of the affairs of the co-op. The Board appoints among its members a chairperson, a secretary and a treasurer as well as sub-committees. The Board also appoints a manager who in turn hires employees and is responsible for the day-to-day running of the co-operative.

The Board meets monthly to discuss matters relating to the affairs and business of the co-op, which might include loan approvals, membership applications, investments, and so on.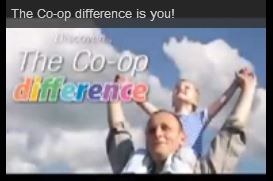 <!--Some examples of Co-op exclusive Atlantic Canadian products that we've helped produce are Atlantic Tender Beef Classic, Atlantic Tender Pork, Atlantic Tender Chicken, Market Town products, Rochdale Gold Potato and Country Morning Eggs. All are produced with the support of our agriculture specialists, providing our members and customers a level of quality assurance and positive economic impact no other grocer even approaches. <br>
Co-op Atlantic partners with hundreds of vendors in the food industry to ensure our stores carry a wide variety of products including the most popular brands. You'll find many Atlantic Canadian choices as well as a wide selection of other products in our 58 full-service Co-op, 16 Co-op Basics and 25 Valufoods stores in Atlantic Canada and Magdalen Islands.
 -->