EL POZO
Avda. Antonio Fuertes, nº1 30840 - Alhama de Murcia - Murcia
 EL POZO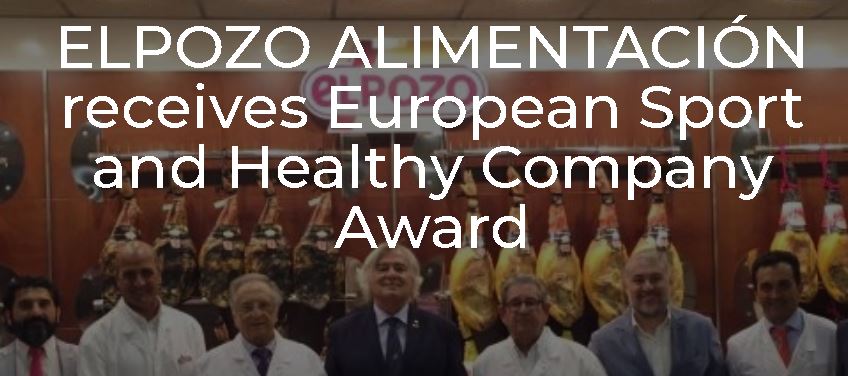 First European food company to get this mark of distinction, promoted by the European Parliament
ELPOZO ALIMENTACIÓN has been declared a European Sport and Healthy Company 2018, an award promoted by the European Parliament which publicly recognizes the company's commitment to promoting health and sport among its more than 4,000 workers.
It is the first food company in Europe to receive this mark of distinction, promoted by ACES Europe and the International Organisation of Human Capital Directives.
ELPOZO ALIMENTACIÓN presented its candidacy and defended a demanding project before the Evaluation Commission, headed by the president of ACES Europa, Gian Francesco Lupatelli.
The committee carried out an audit of the company's  head offices in Alhama de Murcia, and valued, in particular, the 5,000 m2 of sporting space which is for the exclusive use of its staff with a wide range of activities including gymnasium , padel and tennis courts, a covered pavilion designed for indoor football and other sports such as table tennis.
The company has invested 170,000 euros in these facilities over the last two years.
The company's commitment to the sport is not only reflected at an internal level but also it is the main focus of its CSR policy, with sponsorships including the Spanish Paralympic Team, the cycling tour of Spain "La Vuelta", the Women's Race or the Indoor football team ElPozo Murcia.
Furthermore, the title recognizes ELPOZO ALIMENTACIÓN's commitment to promoting health in its working environment, through initiatives such as the School of Joint Health, the siesta room, the vaccination and blood donation campaigns, healthy menus or the doctor's services which are available 24 hours a day, 365 days a year.
For this service, there are two modern surgeries and a complete team, which includes two doctors, six nurses, three auxiliary assistants and a clinical psychologist, all of them form part of its workforce.
Gala in the European Parliament
The prize will be awarded in a gala which will take place on 6th December at the European Parliament's headquarters.  ELPOZO ALIMENTACIÓN will join there the companies who have received this distinction including Grupo Cofares, which was awarded it last year.
During the ceremony, the city of Marseille will award the title of European Capital of Sport to Sofía 2018. In addition, all the cities, towns and communities awarded will receive their banner for 2018.

Budapest 2019 and Malaga 2020 will briefly explain their project for the coming years and the European Capital of Sport for 2021 will be announced, with Lisbon and La Haya as candidates.
Integrated Process Control
Our circular integration model guarantees the total traceability of all our foods, from the beginning to the end of every process.

Our customers are always the focus of what we do, and our actions are always geared to pre-empt customers' needs and exceed their expectations.
Agriculture
We control and select the most suitable raw materials with which to feed our stock, producing our own healthy and balanced feed.
Livestock
We use a genetic selection of the best breeds to produce the most tender, flavorsome and nutritious meat. We produce meat from Iberian and standard white pigs, turkey, and cattle.
Breaking! Sickening scenes of suffering behind Spanish sausages stocked by major UK retailers
Animal Equality, in collaboration with the Spanish TV programme Salvados, has revealed devastating scenes of extreme animal suffering on a Spanish pig farm which supplies El Pozo - a sausage brand stocked by Morrisons, Amazon UK and some British butcher shops.
The investigation, which was broadcast on national Spanish TV on Sunday night, revealed pigs in grotesquely cruel conditions, in violation of the law, suffering for days and weeks on end.
Numerous animals had infected abscesses and giant hernias, severe deformities, and ulcers covered with flies and larvae - all of them without receiving adequate veterinary care.
Investigators found animals living in pens with corpses in an advanced state of putrefaction and containers overflowing with animal corpses covered in larvae.

Many animals were unable to stand and being trampled and cannibalized by other pigs, who had been without food for several days.
Tiny piglets were found slowly dying without veterinary care and all the animals were living in pens full of festering slurry.
These are some of the most sickening scenes of animal suffering Animal Equality has ever documented. This level of negligence and cruelty on any farm, let alone one in the EU, is an absolute scandal.
This farm supplies Spanish meat giant El Pozo whose sausages are sold by Morrisons, Amazon UK, and some British butchers.

We are calling on these UK retailers to remove all El Pozo products from their shelves and websites immediately and replace them with any of the many plant-based alternatives.
 Animal Equality video