PHILLIPINES
SIKSIKA ADELAIDA RAMONES AND RANDY CORPUZ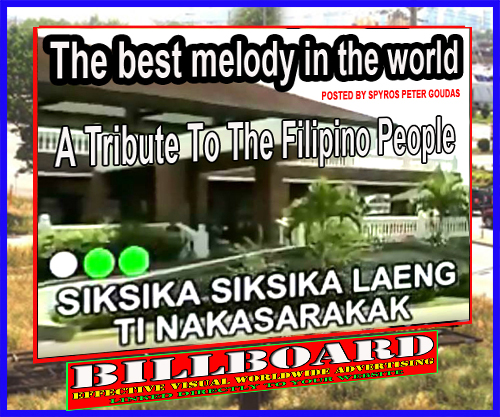 SINGSING NI AYAT - ILOCANO SONG VIDEO WITH LYRICS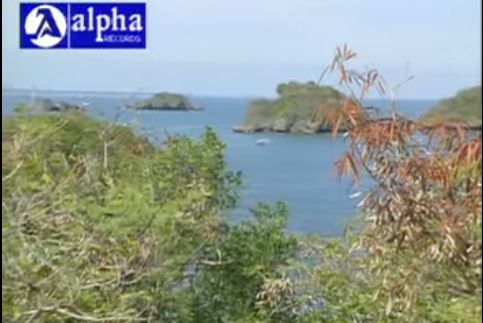 RIRIBOK TOY BIAG KO - ILOCANO SONG VIDEO WITH LYRICS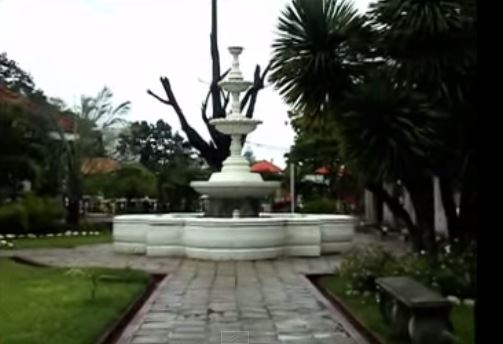 textmate ilocano songs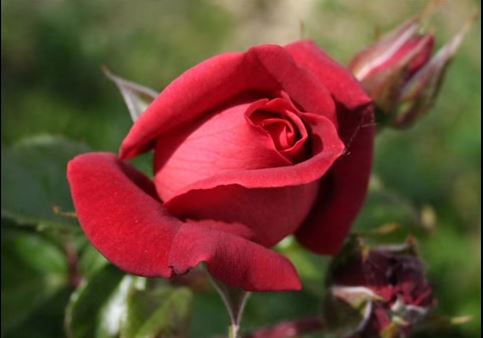 THE BEST OF ILOCANO SONGS  BY:MELO SANTIAGO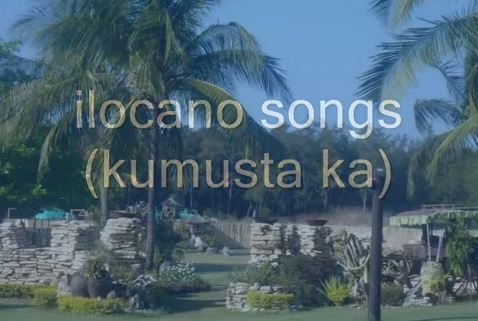 DEAR TEXT MATE (ILOCANO SONG)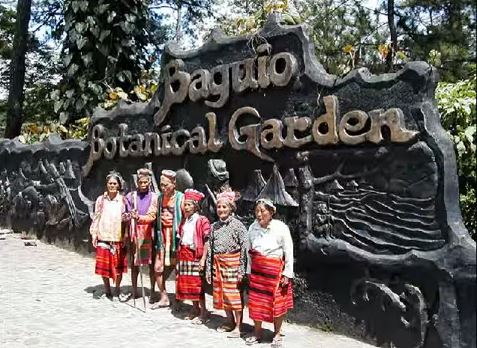 Karim kaniak - Noralyn Domingo Yabes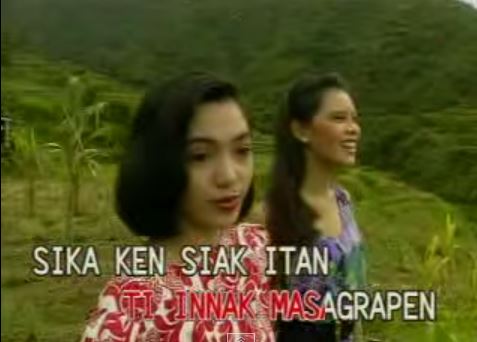 TA DENNAM AWAN NAGBASOLAK(M) - (ILOCANO SONG w/LYRICS)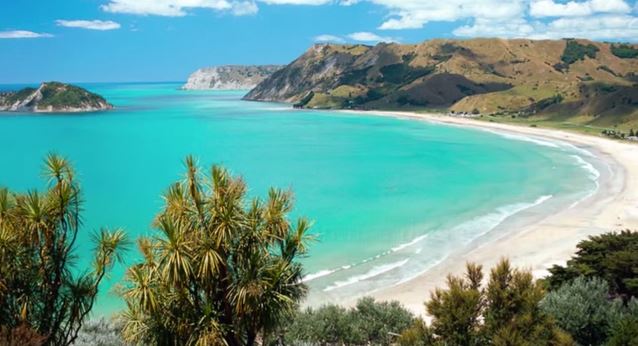 Ilocano songs non-stop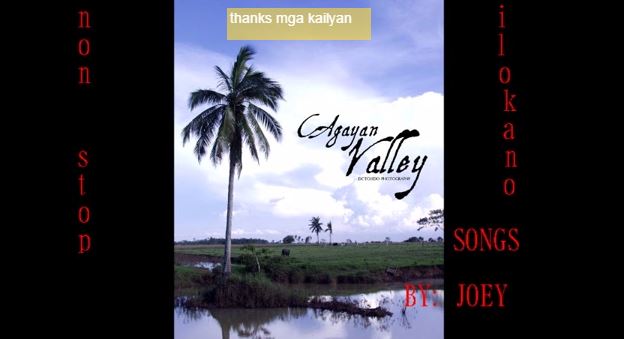 Re-post and remake of an upload flagged by a prude who thinks bikini-clad girls are obscene! with lyrics...of course!!!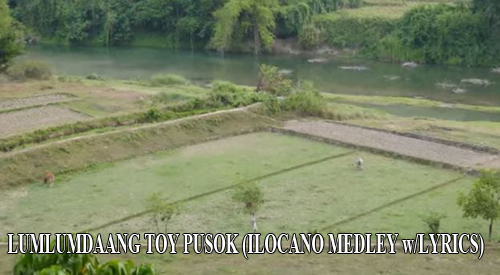 Iisus Din Nazaret-Jesus of Nazareth(1977)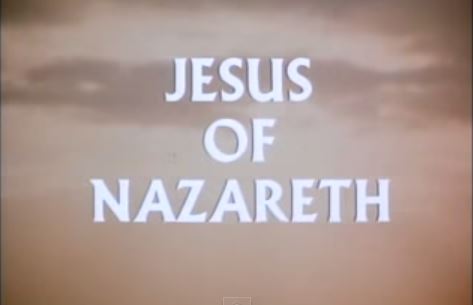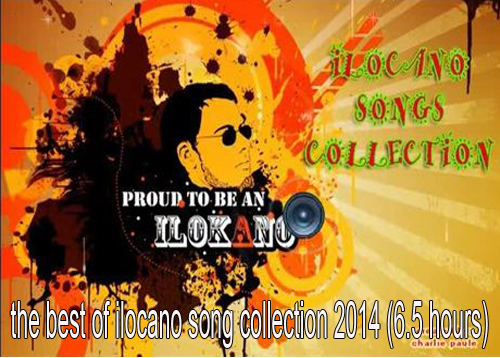 Angelica Hale  
From Wikipedia  Angelica Hale was born to James Hale and Eva Bolando on July 31, 2007, in Atlanta, Georgia. James is reportedly half Filipino, half Caucasian, while Eva is from Iligan City, Philippines.[2]
At the age of four, Hale contracted a severe bacterial pneumonia, causing septic shock and multiple organ failures, including her kidneys and permanent scarring in her right lung. In 2013, after spending a total of 80 days at the Children's Healthcare of Atlanta, Hale received a life-saving kidney transplant from her mother, Eva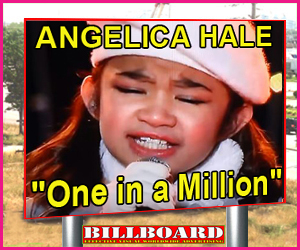 Video of Dawn Alba 
The video of Dawn Alba as portrayed in the picture link below, singing the song entitled "Somebody Bigger" is related to a recording that was done when she was ten years old. 
Articles
Article written by Spyros Peter Goudas about 
Caregivers Resource and Development Program (CRDP)Mount Zion Seventh Day Adventist Church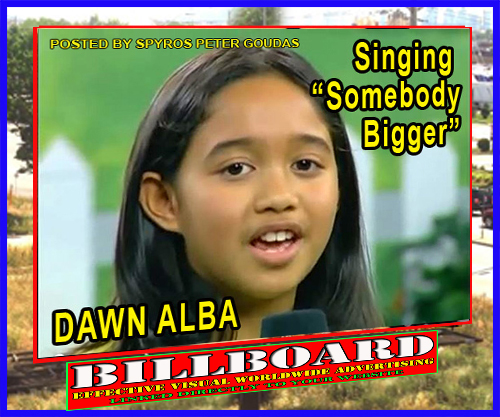 Yoyoy Villame - Philippine Geography 
A tribute to Yoyoy Villame for his endless efforts in education through music.
Music should be the medium to educate our own children from any country, as it helps a great deal in memory development.
The video was made on Christmas day 2013 in responded of Spyros Peter Goudas, food supply to the survivors of typhoon Hayan of November 9, the biggest typhoon even record in the world.
Mr. Goudas was very happy to know that the food product has arrived in disaster area in undisepication of thousands of victims. The name of the area that hurt more was in Visaya.
The video made in memory of late Yoyoy Villame that he was born in Bohol Visaya.
Photo of Spyros Peter Goudas and Jannet Benigno President of Union Spiritual Christian de Filipinas Church.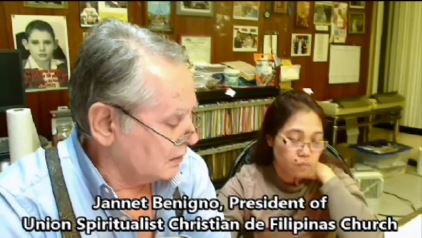 Article written about Caregivers Resource and Development Program (CRDP)
Mount Zion Seventh Day Adventist Church