phone: 416-522-0244/ 416-938-2904
411 Confederation Parkway, Unit #11, Concord, ON L4K 0A8
MAP
WESTON WARRIORS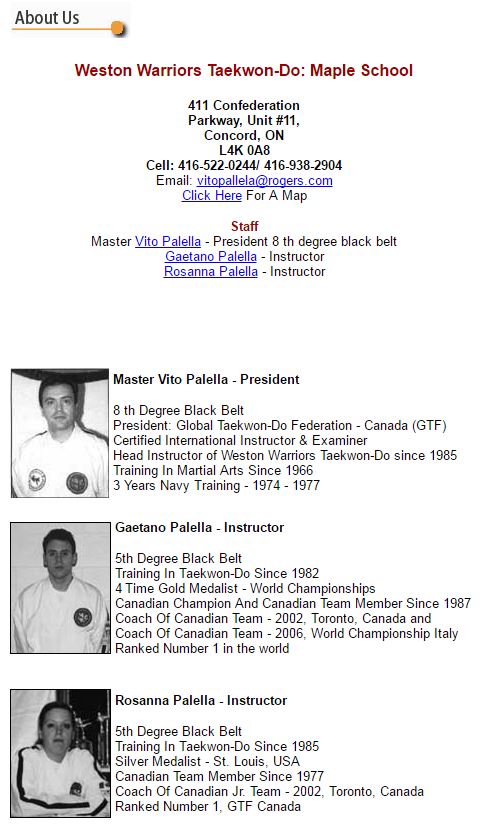 A Statement Of Philosophy 

"Your most formidable enemy is the self. It is essential, therefore, that you be the winner of both self competition and self-control. This, however, requires discipline. As you train in TaeKwon-Do, you are naturally disciplined by your instructor to listen to and obey him, but it is the strict discipline of the self that is of the utmost importance. 

Remember that true TaeKwon-Do is not a competition with others. Rather, it is competition with yourself and your personal standards. Therefore, every time you aspire to another belt promotion, it is you who must decide on the necessary level of improvement in terms of your technique, mental attitude, and life in general. 

How you choose to train is essential to your success. Perhaps you are one of the 'lazy' people who put little effort into training. If this were the case, you will never obtain ultimate success, happiness, and health.
For, only through hard training and concentration can these be achieved. When you push yourself, you cause the body to sweat, and sweating improves circulation and body function.
After a good class, your body will be happy and your mind will be joyful. No one will feel unhappy or depressed and, overtime, you will become mentally and physically fit.

Laziness, lack of strength and endurance, and poor self-esteem will disappear thereby improving your quality of life. Children will come to understand what is right and wrong, and student' grades will improve. Businessmen will improve their skills and people will enjoy their work more.
Many more smiles will be exchanged among family members who understand each other better, and who learn to sacrifice more for others. In general, relationship with other people will be better and, therefore, everyone will feel better.

During TaeKwon-Do training, you learn to be a leader rather than a follower. As a responsible leader, you will gain the respect of neighbors, friends, and other community members. And, during TaeKwon-Do training, you learn to live not only for yourself, but for others as well.
You come to understand that you do not simply live in this world, but that you are an essential, functioning part of it.

Here, I have provided you with a simplified explanation of TaeKwon-Do and the importance of learning its techniques and philosophies. This does not imply, however, that TaeKwon-Do is simple.
On the contrary, it requires much dedication and hard work.

I believe that TaeKwon-Do offers the most ideal of life-styles and it is my hope that everyone will someday share its advantages."


Vito Palella
President - GTF Canada & Weston Warriors
Email: taekwondo@westonwarriors.com
phone: 416-522-0244/ 416-938-2904
411 Confederation Parkway, Unit #11, Concord, ON L4K 0A8
MAP